May 6, 2010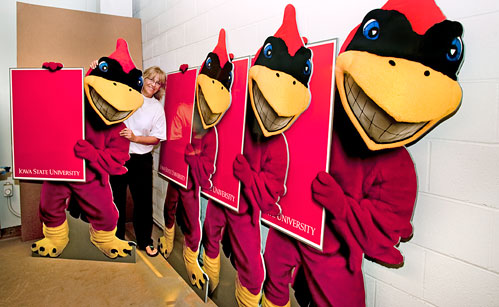 Landscape architect Angie Solberg, facilities planning and management, worked with university marketing to create Cy directional signs that will make their debut on campus this month. The plan is to use them whenever a few directions would help visitors or the campus community. Photo by Bob Elbert.
Directional 'Cy'nage
by Paula Van Brocklin
There's no question about it. Iowa State's beloved mascot, Cy, is one talented bird. And soon he can add crossing guard to his resume.
Well, sort of.
Beginning next week, pedestrians navigating the Morrill Road construction zone will receive helpful detour instructions from three life-size, two-dimensional stand-up replicas of Cy. Each stand-up will display a large directional sign telling pedestrians where to safely trod through the area.
Made to last, the Cy stand-ups are created from outdoor-grade plywood with metal sheeting on both sides. Each piece, which stands about 5 feet tall, is painted and clear-coated to withstand Iowa weather.
Facilities planning and management staff coordinated the Cy creations and hope the stand-ups will stick around for several years. To discourage pranks and thieves, FPM will anchor each Cy in concrete.
Admissions will use a fourth Cy stand-up for orientation registration this summer at the Hixson Lied center.
Each Cy costs about $750, which was funded through the Morrill Road construction project.