April 1, 2010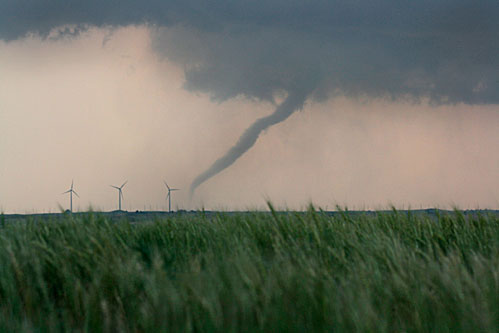 Photo by Sean Waugh, NOAA National Severe Storms Laboratory collection.
New season, new threat
by Erin Rosacker
Find out more
Interested in becoming a storm spotter? The National Weather Service will conduct spotter training on campus April 6 (1:30 p.m., Gallery, MU). Call 4-2193 or e-mail ksgodfr@iastate.edu to register. Online training also is available.
The College of Business will host Severe Weather Awareness Day April 6 (10:30 a.m.-12:30 p.m., Gerdin first floor). The event, which is free and open to the public, features exhibits and displays by several organizations.
View a tornado safety tutorial created for the Story County Emergency Management Agency as part of a service learning project in one of assistant professor Ana-Paula Correia's classes.
After enduring one of the snowiest winters on record, you may be listening half-heartedly to weather forecasts. But don't let your guard down, because with those April showers comes the possibility of severe weather.
To remind Iowans about the possibility of turbulent weather, the Iowa Homeland Security and Emergency Management Division is working with the National Weather Service to present severe weather awareness week April 5-9. Expect a warning system test and statewide tornado drill on Wednesday, April 7 (10-11 a.m.), and additional events throughout the week.
Myth busters
Rethink what you know about being storm ready. Here are some facts that may not be what you grew up believing:
Warning sirens are not designed to be heard indoors
Tornados can cross over water
Opening windows does not equalize the pressure of an approaching tornado
Do not take shelter from tornados under bridges or overpasses
The southwest corner of a basement does not necessarily provide the safest area to take shelter from a tornado
Lightning danger is present even if there is no rain
Rubber tires (or shoe soles) do not protect you from being struck by lightning
Advice from the pros
Just how safe is campus if severe weather hits? According to research by Chris Karstens, a graduate student working with geological and atmospheric sciences professor Bill Gallus, ISU is the safest place in Ames. A PowerPoint presentation and PDF summary of Karstens' research are available online.
"Any structure that has a thick limestone/concrete outer casing, a limited number of windows and a basement would be considered very good," Karstens said. "The worst might be the newer buildings, with lots of glass windows (Howe, Hoover, etc.) -- it wouldn't take much for a tornado to open that structure up. Still, compared to other structures in Ames, these newer buildings are built very well."
Gallus and Karstens said the best defense is to stay informed. Pay attention to the forecast, especially if severe weather is predicted. If you're outside, find shelter in a building.
"Go to lowest level, away from windows, as far interior as you can get," Gallus said. "Do not be outside, especially with our lovely tree-lined campus."
Be in the know
According to the National Climatic Data Center, there were 26 tornados reported in Iowa last year. In 2005, a weak tornado touched down on campus without warning during the lunch hour. So what's the best way to stay on top of the weather? Each campus building has a weather coordinator, notification plan and evacuation map. If you want to do more, you also can: