March 11, 2010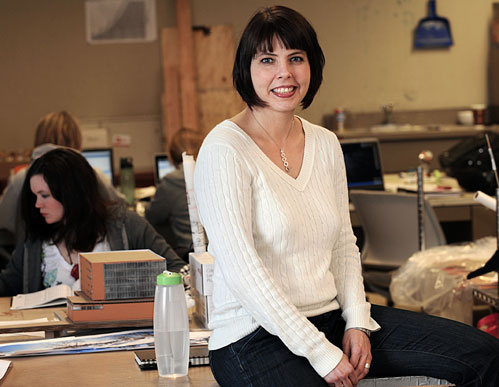 Architecture assistant professor Nadia Anderson left private practice for education in 2005 to explore ways that sustainable design can trump social inequities. Photo by Bob Elbert.
Building bridges between practice and education
by Teddi Barron, News Service
At Iowa State, Nadia Anderson is putting to good use the skills she honed as project manager for huge structures like a 100,000-square-foot, undulating glass-and-steel atrium in downtown Warsaw, Poland. That's because she needs the same poise, perception and sheer perseverance to demonstrate that low-income housing in Iowa can be both affordable and sustainable.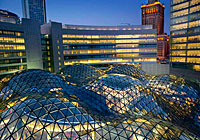 Atrium of the Zlote Tarasy office and entertainment complex in Warsaw, Poland. Nadia Anderson supervised the engineering design and construction for this portion of the complex. Submitted photo by Waagner-Biro Group.
Anderson is an assistant professor of architecture and ISU Extension architecture and community design specialist. After practicing architecture in Chicago and Europe for 11 years, she took advantage of a break in her work in 2005 to pursue another passion: teaching.
"I wanted to explore broader issues of how social inequity can be overcome through sustainable design. There wasn't much opportunity for that in private practice," said Anderson, who has a bachelor's degree from Yale University and a master of architecture from the University of Pennsylvania.
A class that connects
Once settled on campus, Anderson made quick work of it. She and colleague Jason Alread won an American Institute of Architects Practice Academy pilot programs grant in 2006. They proposed a new class -- the Bridge Studio. Their idea was to create an innovative studio that "builds bridges" between sustainability and affordability; design and community; and practice and education.
And it does just that. The Bridge Studio brings together upper-level students, architects, contractors, government agencies, community organizations and residents of low-income neighborhoods to develop prototypes for affordable, energy-efficient, single-family housing.
That's a lot of connections to make, networking to do, balls to juggle and alphabet soup to remember.
"Getting everyone to sit around the same table can be kind of tricky," Anderson laughed.
"I'm basically a project manager, like I was in practice. But this has a lot of meaning for me and that's the big difference," she said. "This is something that I hope has a big impact."
After only three semesters, the class attracted national recognition. In 2009, the Bridge Studio received the National Council of Architectural Registration Boards' $25,000 grand prize for creative integration of practice and education in the academy. And it earned the U.S. Green Building Council's Excellence in Green Building Education Recognition Award.
Blending studio and community
Forest Avenue house in Des Moines designed by Iowa State students in the Bridge Studio. Submitted photo.
The studio's first project -- a house on Forest Avenue in Des Moines -- was designed by students and built by the Community Housing Development Corp. The 1,200-square-foot, energy-efficient house with an open floor plan is for sale, listed at $119,000.
Following the floods of 2008, the director of the Iowa Housing Finance Authority, which directs federal funds to affordable housing development, asked the Bridge Studio to create a prototype of a sustainable, affordable house for flood victims.
"So that's what we did," Anderson said. "We looked at modular prefab construction, because the 'boxes' essentially could be built fast over the winter and installed relatively quickly on the site."
The students presented their designs to the Cedar Rapids housing task force; discussions to develop the prototypes are ongoing.
Needs to fit the neighborhood
Initially, Anderson's students presented designs for a house, not housing. They created boxy houses with flat roofs that "looked really cool, like something you'd see in a magazine." But clients wanted something that "looks like a house" and fits into the neighborhood. Frustrated, the students felt "their professional aesthetic expertise was ignored." Anderson needed to convince them that their design is part of a bigger system.
"It's not just about the unique thing that they're making. It's about the replicable model," she said. "The thing that's unique is how to make the system work better."
A home for Corning
This semester, Anderson and her students are working on a project in Corning (pop. 1,700) that was brought to them via ISU Extension.
"The people of Corning are very motivated to learn how they can reinvent Corning to be a more viable place," she said. "And a small group is especially interested in seeing how sustainable thinking, building and living can contribute to that."
While Anderson marshals the larger, long-term project with the community, her students are designing a house that eventually can be built on multiple sites and will meet the needs of Corning residents: A 1,000-square-foot, single-story, two bedroom, energy-efficient house that costs $120,000 or less to build.
Students presented initial designs to residents on Feb. 27, and are sharing their experiences on a blog.
As part of the project, Anderson will conduct research to estimate the house's energy use. During construction, monitoring equipment will be installed to track actual energy use.
"We want to see if our design decisions are doing what we think they're going to do," she said. "And we want to show that by building an energy-efficient house, we reduce utility costs, thereby cutting the overall monthly cost of ownership -- even if the mortgage payment is higher," she said.
"Right now the attitude is that green is too expensive for affordable housing," Anderson said. "Can we create a model that demonstrates that, in fact, this approach is actually a cost saver?"