Feb. 4, 2010
Big names in sustainability will headline ISU symposium
by Diana Pounds
The rock climber who successfully mixed business with environmentalism in his outdoor clothing company and the woman who grew a small initiative at Harvard University into the largest green campus organization in the world will headline Iowa State's Symposium on Sustainability Feb. 23-24.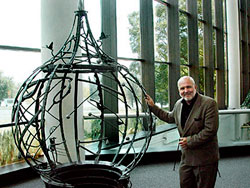 Sculptures made of river trash will be displayed in Great Hall during the symposium. Ogden artist David Williamson (above) created the art from trash collected during the Iowa Department of Natural Resources' annual cleanup of Iowa rivers. Iowa State is a seven-year supporter of the cleanup. Contributed photo.
Yvon Chouinard, founder of Patagonia Inc., and Leith Sharp, guru of Harvard's much acclaimed Green Campus Initiative, will be joined in the symposium lineup by numerous ISU groups and individuals who've helped green the university in recent years. Presenters will include student leaders and volunteers, members of departmental green teams, experts on the bioeconomy and instructors teaching classes in sustainability.
The symposium starts Tuesday evening, Feb. 23, with Chouinard's lecture and a poster session. It continues all day Wednesday, Feb. 24. It's free to Iowa State faculty, staff and students. Others may attend the seminar at a cost of $65 per individual. The conference also will be web cast live and can be viewed from individual computers, on or off campus.
All conference participants, including those who plan to view the conference online, should register online by 5 p.m. Feb. 19.
Merry Rankin, director of sustainability, urged the campus community to make time to attend the university's second annual Symposium on Sustainability.
"You'll hear from two extraordinary environmentalists," she said. "You'll hear about the exciting Live Green activities under way at Iowa State. And you'll have a say in future sustainability activities at this university."
A local lunch
These local foods, catered by ISU Dining, are on the menu for the free Feb. 24 buffet lunch for symposium goers (Sun Room).
Mixed greens, tomatoes and onions
Cider vinaigrette
Herbed roast pork
Butternut squash and potato fritters
Glazed carrots
Rolls with honey butter
Apple crisp with cinnamon ice cream
See local food producers.
Schedule
Following are highlights of the two-day event. All events are in the Memorial Union. A detailed schedule is on the symposium web site.
Feb. 23
The symposium opens with a reception and poster session (7 p.m., Great Hall), followed by Chouinard's lecture at 8 p.m. The avid outdoorsman pledged 1 percent of Patagonia sales toward the preservation and restoration of the natural environment. Chouinard also helped create One Percent for the Planet, an alliance of businesses that give at least 1 percent of their net annual sales to approved environmental organizations.
Feb. 24
Wednesday is packed with sustainability discussions (8 a.m.-5 p.m., Sun Room). In the keynote address, which begins at 8:20 a.m., Sharp will discuss green strategies for a campus community, including cost-effective building design and operations, purchasing, renewable energy, organic landscaping, cleaning, greenhouse gas reduction and more.
At 9 a.m., Rankin will give a progress report on ISU's Live Green! Initiative.
Panel discussions
Four panel discussions make up the bulk of the day's events. The first session, beginning at 9:30 a.m., features a panel of ISU students involved in green practices. The panel will be moderated by Chandra Peterson, vice president of the Government of the Student Body.
At 10:15 a.m., university Live Green teams will discuss their work. Panelists include green team chairs Sarah Passonneau (library), Darryl Knight (residence) and John Miranowski (Liberal Arts and Sciences). Rankin will moderate.
The afternoon panels begin with a 1:30 p.m. discussion on the university's interdisciplinary sustainable education programs, moderated by Arne Hallam, LAS associate dean.
The final panel begins at 3:15 p.m. and features ISU Extension efforts to create sustainable farms, families and a bioeconomy. Extension specialist Andrew Larson, a small farm sustainability coordinator, will moderate.
Your ideas
At the close of the symposium, attendees will have an opportunity to share their thoughts, questions and suggestions on how ISU can enhance its sustainability initiatives. The open forum begins at 4 p.m. in the Sun Room.