Jan. 28, 2010
University Museums receives original Rodin sculpture
by Dave Gieseke, ISU Foundation Communications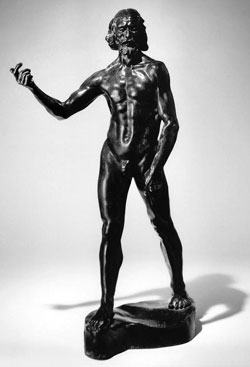 "St. John the Baptist Preaching" (Auguste Rodin), modeled about 1880, cast in 1962 by the Georges Rudier Foundry, Paris, bronze. Submitted photo.
The Iris and B. Gerald Cantor Foundation, Los Angeles, has given an original cast sculpture by French sculptor Auguste Rodin (1840-1917) to University Museums. Rodin generally is considered the originator of modern sculpture.
"Saint John the Baptist Preaching," created by Rodin in 1880, will be installed in the Christian Petersen Art Museum, Morrill Hall. A dedication of the piece will be part of University Museums' monthly Final Friday reception Jan. 29 (5:30-7:30 p.m.) in Morrill Hall. The reception is free and the public is welcome. A program will begin at 6:30 p.m.
"This is an incredible gift from the Cantor foundation," said Lynette Pohlman, director of University Museums. "Rodin is an iconic international sculptor, the greatest sculptor since Michelangelo. For Iowa State to have a Rodin in our permanent collection is very exciting because it adds to the rich culture that our Art on Campus program is providing."
This isn't the first time the Rodin sculpture has been on campus. In 2007, "Saint John the Baptist Preaching" was a part of a four-month exhibition, "Rodin: In His Own Words," at the Brunnier Art Museum. That exhibition was organized and sponsored by the Cantor foundation.
Rodin's interpretation of John the Baptist is different from traditional depictions. Instead of St. John clothed in fur with a cross staff, Rodin created a powerful nude. The bronze sculpture features John striding forward.
The Iris and B. Gerald Cantor Foundation was established in 1978 to promote and encourage appreciation of excellence in the arts through support for exhibitions and scholarship, and the endowment of galleries around the world. B. Gerald Cantor's passion for Rodin led him and his wife, Iris, to assemble the largest private collection of Rodin sculptures in the world and support the study of Rodin.
This gift is part of Campaign Iowa State: With Pride and Purpose, the university's $800 million fund-raising effort. To date, more than $740 million in gifts and future commitments for facilities and student, faculty and programmatic support have been made to the campaign.