Jan. 21, 2010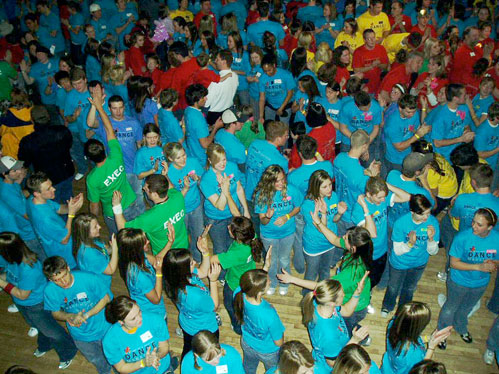 Having fun with featured families at the 2007 Dance Marathon. Submitted photo.
Dance Marathon hopes to raise $200,000 in 15 hours this weekend
by Anne Krapfl
Iowa State student and non-student "spirit" dancers will stay on their feet for 15 hours Jan. 23 (9 a.m.-midnight) in the Memorial Union Great Hall in support of Dance Marathon. More than 900 preregistered to participate. Dance Marathon is a nationwide student philanthropy that raises money for Children's Miracle Network to help children and their families cope with life-threatening illnesses and diseases.
To participate, dancers need to raise at least $200 and spirit dancers at least $75. They'll spend the day with Dance Marathon families -- playing games, dancing and watching performances by student organizations. Businesses donate food to keep the dancers energized.
You're invited
The Iowa State event begins with an award-winning "run-in," in which dancers circle the room. Dancers learn a morale dance -- a medley of songs with choreographed dance moves that they'll perform at the top of every hour as motivation.
Non-dancers are welcome to watch anytime during the marathon. At 11 a.m., 3 p.m. and 7 p.m., faculty and staff are especially invited to visit. They'll have the chance to meet a family who benefits from Dance Marathon and take a tour of the activities (and participate if they choose). Admission is free.
Dance Marathon made its debut at Iowa State 13 years ago and has become the largest student-run philanthropy effort on campus. Last year, nearly 500 dancers raised more than $171,000 for the University of Iowa Children's Hospital through Children's Miracle Network. The goal this year is to surpass $200,000.