Jan. 7, 2010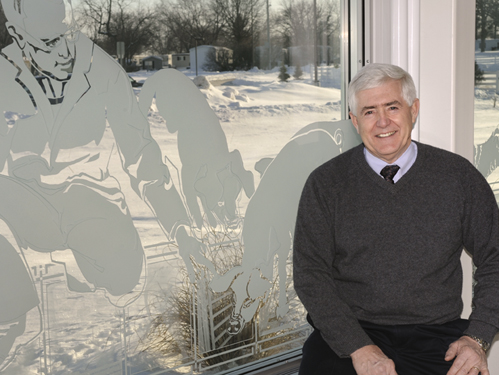 As president of the American Association of Swine Veterinarians during 2009, Dr. Rodney "Butch" Baker served on the front lines in educating people about the H1N1 virus. Photo by Bob Elbert.
2009 'flu by' for swine expert in the media spotlight
by Dan Kuester, News Service
Last April, television, newspaper and magazine reporters started to seek out Dr. Rodney "Butch" Baker as an expert on the novel H1N1 virus, which was misnamed swine flu. That month, the pandemic made national and international news headlines when early cases were found in Mexico and California.
Having just become president of the American Association of Swine Veterinarians (AASV) in March, Baker was a good source for reporters looking for answers to questions about the disease.
Since then, Baker has been sought out as an expert by professional journals (eight to 10 science and other magazines, according to his count), local broadcast news (KCCI TV and Iowa Public Television, twice each), national news (Fox Business News) and several other online journals.
"I can't begin to count the number of times in the past year I've been quoted, or misquoted, in the media," Baker laughs.
Being president of the AASV usually involves time to look at big-picture issues and direct the group while others carry out day-to-day duties. Not for Baker. He estimates that he spent 10 to 20 hours a week working on H1N1 flu issues, in addition to his duties as senior clinician in the veterinary diagnostic and production animal medicine department at the College of Veterinary Medicine.
Straight talk
Rather than a burden, Baker felt the extra work was an opportunity to set the record straight on the H1N1 flu that affected pork producers already suffering from low prices, dwindling exports and a bad economy.
Having access to ISU's top-notch Veterinary Diagnostic Laboratory helped him be the best source for information on the science behind H1N1, Baker said.
"From that standpoint, it's been a good year, because probably very few others in the association would have access to information that I have," he said.
"I guess I've been a good choice to be in the line of fire, but I will be more than happy to pass the gavel on to the next president."
From swine to sailboats
When the Kentucky native gets through the year, he likely will have more time to spend with his wife, daughter and grandkids. They were, after all, part of the reason Baker came to Iowa State four years ago.
"My daughter came up here (from Kentucky) and stayed. She works at the National Animal Disease Center," said Baker, who let out a slow, Kentucky laugh when he remembered the decision to move north.
"With all the women -- my daughter, my two granddaughters and my wife -- saying we needed to come up here, I didn't have much choice," he said. "They have all the influence and the controlling votes."
Baker added that the College of Veterinary Medicine's reputation also was important.
"Even without (the family pressure), I probably would have come," he said. If you're interested in food animals and food animal medicine, this is the mecca."
The move north meant colder weather, but Baker seems to have acclimated to that pretty quickly. He even adapted his passion for sailing to the icy winter conditions.
"You can sail in winter; you just need to have a boat that has runners," he said.
Baker's summer boat, a 25-foot Catalina he keeps on Saylorville Lake, is his refuge from work and a family gathering place in the summer. Left on his own, he is much more likely to race his boat with his sailing club. The speed and action are a thrill for the veterinarian.
"Going from a 12-mile-an-hour wind to a 15-mile-an-hour wind is like going from boredom to terror," he said. "And that's part of the challenge. It's an action-packed hobby.
"There are just so many things to learn," he said. "And the more you learn, the more you realize how much more you don't know. It's a mental challenge."
Almost as big a challenge as a year in the media spotlight.