Oct. 29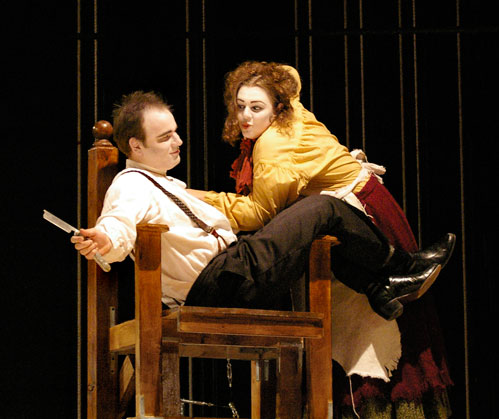 ISU Theatre and the music department's Opera Studio will stage Stephen Sondheim's musical version of Sweeney Todd Nov. 5-8. Senior Chris Ebke plays the title character, and junior Nicole Conetzkey fills the role of Mrs. Lovett. Photo by Casey Gradishnig.
Sweeney Todd comes to ISU Theatre stage Nov. 5-8
by Steve Jones, Liberal Arts and Sciences Communications
ISU Theatre, in collaboration with ISU Music's Opera Studio, presents Stephen Sondheim's musical version of Sweeney Todd Nov. 5-8 at Fisher Theater.
Sweeney Todd deftly combines intricate and beautiful music into a love story that takes on "an extra level of horror," said Brad Dell, the play's director and assistant professor of theatre.
"Our production will focus on the music and its intricacies and complexities," Dell said. "There is a lot of richness to Sondheim's lyrics and score. The music is interesting in that it creates complex characters and relationships in a production that ultimately becomes a terrifying thriller."
Sondheim's operatic score for Sweeney Todd won a 1979 Tony Award. Based on 19th-century myth and legend, the story has been presented on stage, television and the big screen. The most recent film version starred Johnny Depp in 2007.
The story begins when Sweeney Todd returns to London after 15 years of unjust imprisonment in Australia. His landlady, Mrs. Lovett, tells him that his wife poisoned herself after being raped by the judge who condemned him to exile. Sweeney Todd vows revenge, and Mrs. Lovett finds a way to increase her sales of meat pies.
ISU Theatre is collaborating on Sweeney Todd with the music department. Musical direction is by Mary Creswell, associate professor of music, and Jodi Goble, lecturer. Jacob Harrison, assistant professor of music, will conduct the show.
"It's really exciting to work with the best voices and instrumentalists we have on campus," Dell said, who added the music is both challenging and complex.
Chris Ebke, a senior music education major, plays the lead role of Sweeney Todd, and Nicole Conetzkey, a junior music major, is Mrs. Lovett. Also starring in the production are Jessica Hay as the Beggar Woman, Jocelyn Ascherl as Joanna, Aaron Hoffmeyer as Anthony and Tom Wilson as Judge Turpin.
Sweeney Todd is on stage Nov. 5-7 at 7:30 p.m. and Sunday, Nov. 8, at 2 p.m. Tickets are $19 for adults, $17 for seniors and $12 for students, and can be purchased through Ticketmaster, at the Stephens ticket office weekdays 10 a.m. to 4 p.m., or at the door before the performance.