Sept. 24, 2009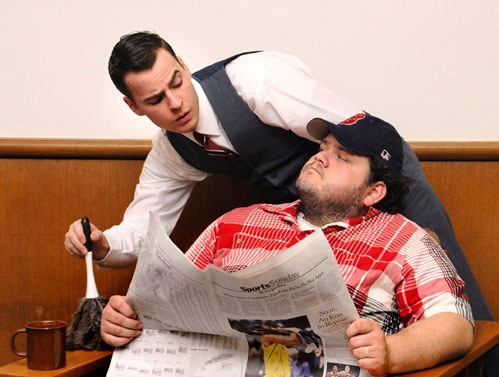 Felix (junior Caleb Woodley, standing) and Oscar (senior John Flotho) bring their bickering to the stage in ISU Theatre's production of The Odd Couple Sept. 25-27 and Oct. 2-4. Photo by Patrick Gouran.
ISU Theatre brings a laugh to Fisher
by Erin Rosacker
Oscar and Felix come to life at Fisher Theater Sept. 25-27 and Oct. 2-4 in The Odd Couple, ISU Theatre's first production of the season. The department kicked off its 2009-10 schedule last month with a presentation of The History Boys, featuring the Des Moines-based Stage West theater company.
The Odd Couple pits polar opposites Oscar Madison (senior John Flotho) and Felix Ungar (junior Caleb Woodley) as reluctant roommates. Jane Cox, the play's director and department chair, said there was a reason ISU Theatre picked this Neil Simon classic to open the season lineup.
"We wanted to start our 2009-10 season with a comedy since there are a lot of real problems in many persons' lives, and a few hours spent laughing would be of some help," Cox said.
True to its original Broadway script, the three-act play is set in 1960s New York City. Oscar, a divorced and slovenly sportswriter, invites newswriter and poker-buddy Felix to move in after his wife kicks him out of the house. Felix, an uptight neat-freak, throws himself into cooking and cleaning and in just a couple weeks, both men fall into bickering like a stereotypical married couple.
As the two characters navigate their living situation, their relationship and a double-date with the upstairs neighbors, their impact on each other is clear by the time the final curtain falls.
Friday and Saturday performances of The Odd Couple begin at 7:30 p.m., Sunday matinees are at 2 p.m. Tickets cost $15 for adults, $13 for seniors or $8 for students, and are available at the Stephens box office or through Ticketmaster. Tickets also can be purchased at Fisher prior to each performance.