Sept. 24, 2009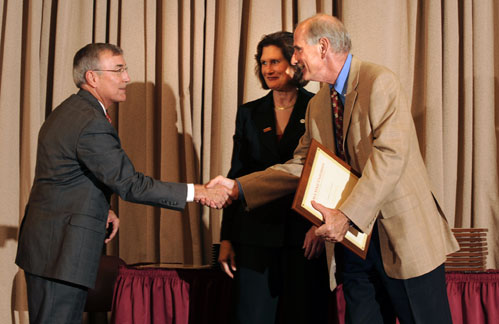 Materials science and engineering professor Lawrence Genalo (right) is congratulated by president Gregory Geoffroy and provost Elizabeth Hoffman during the fall convocation Sept. 21. Genalo is one of three faculty members awarded the designation of University Professor this year. The recipients of 24 university or regent awards were recognized at the convocation. Photo by Bob Elbert.
Geoffroy praises budget response, predicts more challenges to come
by Diana Pounds
The Iowa State community responded well to budget challenges of the past year and notched remarkable progress in key areas, president Gregory Geoffroy said during his Sept. 21 convocation remarks.
But he went on to say that a serious budget shortfall facing the state may require even more belt tightening at Iowa State over the next couple of years.
Geoffroy's remarks prefaced the annual ceremony honoring recipients of university and State Board of Regents awards.
Good progress, attitude
Despite budget reductions, "we truly made remarkable progress in several key areas," Geoffroy said. That progress included records in enrollment and sponsored funding, a banner year in private fund raising, strong sustainability initiatives, numerous milestones for academic programs and national recognition for student groups.
"I want to thank, once again, the entire university community for making all of these and many other successes possible, and for keeping a positive, optimistic attitude while we continually strive to move ahead in spite of the difficult economic times," Geoffroy said.
Budget outlook
Looming budget challenges include the "very real possibility of a significant mid-year reversion in our state appropriations" and the possibility of further reductions in next year's (FY11) budget, Geoffroy said.
"It promises to be a very challenging legislative session," he said, "but I can assure you that we will do our absolute best to convince our elected leaders of the importance of preserving the excellence that we have worked so hard to build and grow here at Iowa State."
Higher ed landscape is changing
Trends in public funding for higher education in Iowa and across the nation make it clear that "the landscape of higher education is changing," Geoffroy said.
"The real challenge for all of us is how to best adjust to those changes and to the new fiscal realities while simultaneously staying true to our mission and still finding ways to fulfill it at the highest levels of excellence and impact.
"We simply have no choice but to decide what it is that we can do best, exactly where we want to be a strong leader, and then focus sharply on those areas while letting others go," he said.
Strategic planning
"It's in times like these that strategic thinking and strategic planning become even more important," Geoffroy added.
Key planning committees have begun work on the next plan, and Geoffroy said there will be many opportunities for input as the plan is developed.
Geoffroy concluded his remarks with a call to faculty and staff to "keep very strong focus on excellence and on having a high impact in everything we do."
"We must not let the economic recession and our own budget challenges cause us to lose focus on being a truly outstanding university."