Sept. 17, 2009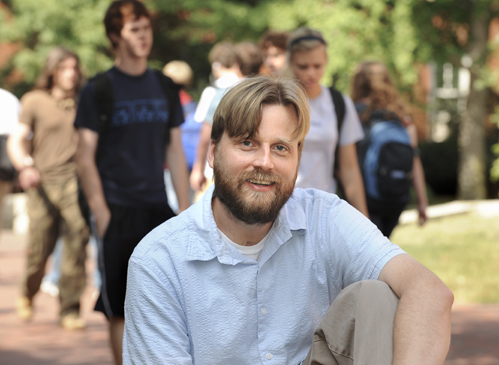 Staff psychologist Todd Pietruszka took the lead on establishing a biofeedback center, available for any student to use, in the Student Counseling Center. Biofeedback is one strategy for reducing stress. Photo by Bob Elbert.
His job: Help students achieve their dreams
by Anne Krapfl
As a young man, Todd Pietruszka was a self-styled "science geek," happy to load up on physics, chemistry and biology courses until he had completed a bachelor's degree in chemistry. Turns out, what he really enjoyed about all those hours in the chemistry lab wasn't the science, but hanging out with people and listening to their stories.
Stress-buster
Find out more about how ISU's Biofeedback Center helps students measure and deal with stress.
Pietruszka, starting his third fall as a licensed staff psychologist in the Student Counseling Center, said some post-college straight talk with a career counselor helped him realize this. He got back in school and earned a master's degree in counselor education at the University of Central Florida and a Ph.D. in counseling psychology at the University of Memphis. When it was time to tackle the internship part of his doctoral work, he was drawn by the reputation of Iowa State's Student Counseling Center.
"Iowa was not on my radar," said the New Jersey-born, East Coast-bred Pietruszka. "But the training program here is so diversified, it's phenomenal. I fell in love with this area when I got here."
And he found he enjoyed working with college students. So he stayed. In addition to conducting individual and group counseling sessions, he teaches a course in ISU's doctoral psychology program and does outreach programming to the student community.
"At heart, I think I'm a dreamer. What's the next adventure? What's the next phase in life? And that's what college is all about," said Pietruszka, who counts an aborted attempt to hike the Appalachian Trail among his dreams.
"Where I come in, is when there are obstacles to that dream," he continued. "I help people discover stuff about themselves and find and learn ways to fulfill their dreams."
Accessibility for many
Students who seek help at the Student Counseling Center are struggling with any of a range of issues: Eating disorders, depression, indecision about a career, anxiety disorders, relationship problems or difficulty living independently for the first time are some fairly common ones.
Pietruszka said the demand for services at the center is on the increase. But his theory is that television shows, from Bob Newhart to Becker to The Mentalist; and public service efforts such as those by the National Football League or longtime CBS 60 Minutes correspondent Mike Wallace, have lessened the stigma about mental health services -- and that's a good thing. Still, the norm is to hide mental health issues, he said.
One key to serving ISU students well, he said, is to diversify the range of services in order to be as accessible as possible to as many as possible. Toward this end, he led the effort to secure funding (a 2008-09 grant for $4,654 from IT Services' Computation Advisory Committee) to set up a biofeedback center in the Student Counseling Center. Biofeedback is based on the idea that people can use their minds to influence many involuntary functions of their bodies. It's used successfully to mitigate stress.
The ISU center contains self-directed software from which students learn techniques to focus on mental images that can effect physiological changes. Any student may use the biofeedback center; you don't have to be a client of the Student Counseling Center.
Team approach
Student clients of the Student Counseling Center are there voluntarily, so Pietruszka said the staff relies on an integrated team system to alert students to their services -- including their own outreach efforts as well as staff in the dean of students office, student health center, public safety department and residence department.
"It's a great team system. I think a lot of faculty and staff know about us as well," he said.
"We really appreciate their attunement to students' mental health issues."