Sept. 17, 2009
BioCentury Research Farm dedication is Sept. 22
by Ed Adcock, Agriculture and Life Sciences Communication Service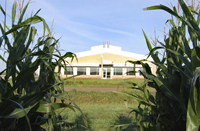 Contributed photo.
The public is invited to help dedicate Iowa State's BioCentury Research Farm on Sept. 22.
A dedication program will begin at 1:30 p.m. at the farm, which is located at 1327 U Ave., a quarter of a mile south of Highway 30, about 5 miles east of Boone. The program is scheduled to conclude at 2:15 p.m. with a ribbon-cutting and tours of the facility.
The BioCentury Research Farm will study biomass feedstock production; harvesting, storing and transporting of feedstocks; changes in land use arising from harvesting corn stover and other plants; new ways to process a variety of feedstocks into bioproducts; and the socioeconomic impacts on Iowa agriculture. It is the first fully integrated biomass production farm and processing facility where ISU faculty and industry can partner to develop advanced biorenewable fuels, biobased products and industrial chemicals from grain, agricultural residues and cellulosic crops.
Wendy Wintersteen, dean of the College of Agriculture and Life Sciences, will begin the program with remarks and will act as master of ceremonies. Confirmed speakers include president Gregory Geoffroy; Patty Judge, Iowa's lieutenant governor; Mike Tramontina, director of the Iowa Department of Economic Development; Roya Stanley, director of the Iowa Office of Energy Independence; Bill Niebur, vice president, DuPont Crop Genetics Research and Development; Robert Brown, director of Iowa State's Bioeconomy Institute; and Larry Johnson, BioCentury Research Farm director.
Self-guided tours will include stops to view equipment to be used in field research at the farm, the bioprocessing facility's three processing areas and the building where harvest, storage and transportation research will be conducted. There will be displays to explain research planned for many of the areas.