Sept. 3, 2009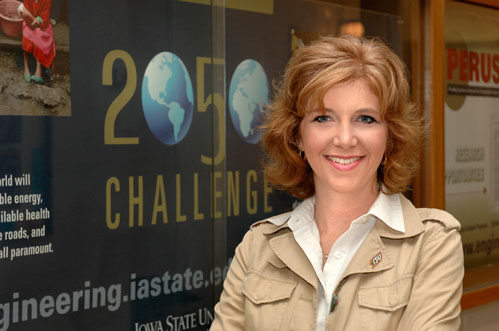 Camille Sloan Schroeder
2009-10 Professional and Scientific Council president
Position at ISU
Manager of precollegiate programs, College of Engineering
Arrived at ISU
1999
Previous service on P&S Council
Council member (2004-05; 2005-08); president-elect (2008-09); executive committee (2006-09); retention and recruitment committee chair (2006-08)
Council's top goals this year
Compensation policy
Responding to budget issues
Quick response to issues facing staff
Thoughts on the year ahead
"It's going to be challenging to respond to issues that come up quickly and need a fast response, especially wanting to make sure that the response does the best to represent our P&S staff."
"I'm glad to have the opportunity to serve. It's definitely a great learning and leadership opportunity. I think it's really important for people to serve and I am honored to be in this role this year."
Issue that could be the most important to the council this year
"Budget. It has such a trickle-down effect. It affects what we do and don't do. It's very tied to a lot of the issues that we, as a council, are interested in and our constituency is interested in. It's like throwing a big rock in a small pond -- it creates a lot of ripples."