Nov. 3, 2011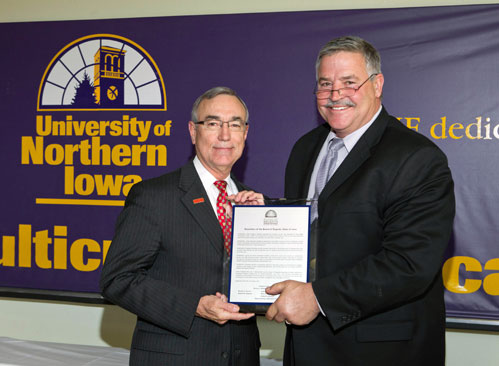 President Gregory Geoffroy received a plaque of commendation from state Board of Regents president Craig Lang during the board's Oct. 27 meeting at the University of Northern Iowa. The board thanked Geoffroy for his "enduring leadership style that provided stability and inspiration for more than a decade." Photo by Sam Castro.
Regents wrestle with another tuition increase
by Anne Krapfl
Meeting Oct. 27 in Cedar Falls, members of the state Board of Regents expressed frustration with the trend of declining state support for public higher education and the resulting annual tuition increases frequently in excess of inflation. Their comments came as they made a first review of proposed tuition rates for the 2012-13 year.
"We need a renewed commitment from our state," said board member David Miles, who called higher education "a vital public good for Iowa."
Regent Robert Downer talked about the detrimental impact of high student debt on the state and the state's workforce. Iowa's relatively low wages also contribute to the problem, he said. Some costs of living in Iowa are lower, he noted, but student loan payback obligations are not.
Regent Ruth Harkin, who voted against the regent universities' last three tuition increases, said, "It seems that every year we say we have to find a better way to pay for an education. But again, we need a better business model than the one we have for our regents institutions."
As proposed, Iowa State tuition would increase $240 (3.75 percent) for resident undergraduates and $480 (2.63 percent) for out-of-state undergraduates. Proposed graduate tuition would increase $280 (3.7 percent) and $504 (2.6 percent) for resident and nonresident students, respectively. Iowa State proposes to hold mandatory student fees at this year's rates for all students.
Board president Craig Lang noted that the proposed rates depend on the 2012 Legislature approving state funding for the regent universities at the level requested. The board approved those requests last month.
Government of the Student Body president Dakota Hoben told board members the "marginal increase is more than fair" because it does no more than keep up with projected inflationary increases. Hoben said that, to date, he hasn't received a complaint from an Iowa State student about the proposed increase.
Hoben's counterparts at the universities of Iowa and Northern Iowa gave the board more reluctant endorsements of the proposed increases.
The regents are scheduled to approve 2012-13 tuition rates at their Dec. 8 meeting at Iowa State. One of the guides they use in assessing tuition increases is the Higher Education Price Index (HEPI). The HEPI forecast for FY13 is a range of 2.6 to 4.2 percent, with a median of 3.4 percent.
Differential tuition
Iowa State is proposing differential tuition next year for four student groups: juniors and seniors in agricultural systems technology and industrial technology (both in the ag and biosystems engineering department), and undergraduate and graduate architecture students. The AST and ITec upper division students would pay an additional $584, the second of a proposed three-year incremental increase to lower student-to-faculty ratios and provide excellent instruction and cutting-edge lab experiences. All architecture students would pay a proposed $400 in additional tuition next year, intended to help hire more faculty to address the program's 30 percent enrollment increase since 2007.
If the differential tuitions are approved, these students would join upper division ISU students in the colleges of Engineering and Business who have paid differential tuition since 2006 and 2009, respectively.
Nonmandatory student fees
Calling the long list of academic and administrative student fees "confusing," the board asked the three universities to consider simplifying the list or better communicating what it's for by next year. These nonmandatory fees cover the cost of providing specific services -- a certified transcript, application to the university, or replacing a lost ID, for example -- and students pay only for the services they use during their time in school. "Students and their families need to know what the real bottom line is going to be to attend a regent university," Harkin said.
The board reviewed the proposed 2012-13 fees list Thursday and will be asked to approve it in December.
Thank you, president Geoffroy
At Lang's request, Miles offered a public thanks to president Gregory Geoffroy for his 10 years of service. Miles has been a board member nearly half of those years and board president for three years. He listed record enrollment and sponsored research levels, more endowed faculty positions, Iowa State's "remarkable approach to planning and budgeting" and its leadership spot in the bioeconomy, as well as Geoffroy's accessibility to students and constituent groups as hallmarks of his presidency.
"On many occasions, I relied on your judgment and perspective. It's been a pleasure to work with you," Miles said. "Thank you very much for your service."
During a private luncheon, the board also presented Geoffroy with a plaque to recognize his leadership and accomplishments at Iowa State.
President-designate Leath
Regent Bruce Rastetter, one of two regents who served on the ISU presidential search committee, said Steven Leath agreed to move his start date at Iowa State to Jan. 16, earlier than the previously announced Feb. 1 date. Leath also will be a professor in the plant pathology and microbiology department. It is not a tenured faculty appointment.
In other business, the board approved Iowa State requests to:
Name the research/teaching wing and atrium of phase 2 of the biorenewables complex. Sukup Hall and Atrium will honor the Sukup family of Sheffield, who committed a lead gift of $5 million for phase 2. When they are completed, Sukup Hall, Sukup Atrium and the adjoining Elings Hall -- an office and classroom wing named for Engineering alumnus Virgil Elings of Santa Barbara, Calif. -- will be home to the agricultural and biosystems engineering department.
Name the expanded and remodeled small animal hospital the Hixson-Lied Small Animal Hospital in honor of Christina Hixson, sole trustee of the Lied Foundation Trust; and in memory of Ernst and Ida Lied.