Aug. 4, 2011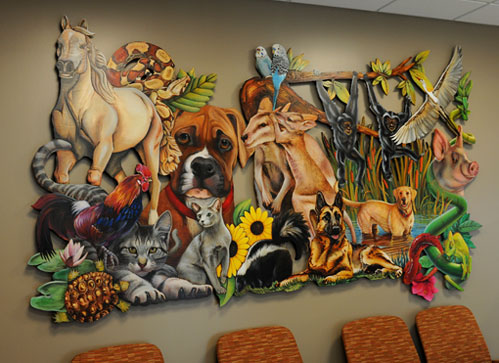 This mural and eight others are sure to keep the patients patient in the waiting area of Veterinary Medicine's small animal hospital. The murals are by Sarah Grant and an artist team at Sticks Inc., Des Moines. Photo by Bob Elbert.
August is a big month for campus art installations
by Anne Krapfl
Some campus offices may experience July and August as the calm before the storm. For the staff in University Museums, the latter half of this summer will be the storm before the next storm. They'll coordinate nearly a dozen art installations at new or renovated buildings this summer and early fall.
Most are part of the Iowa Art in State Buildings program which, since 1978, designates 0.5 percent of new construction or remodeling funds for public art purchases. Some -- including an 18-piece series of neon words and phrases for the State Gym addition -- are new. Others, such as past artist-in-residence Christian Petersen's original (1938) terra cotta statue, The Gentle Doctor, are university classics receiving new homes. They all join one of the largest campus public art programs in the country.
"Iowa State loves representational art -- it tells a story."
-- Lynette Pohlman
University Museums director Lynette Pohlman said this summer's installations also are about "continuing traditions," such as those that are tied to an artist -- or to a specific medium. For example, the university's art collection features about 30 major murals, and that number will grow this summer with a set of nine animal murals in the College of Veterinary Medicine's new animal hospital and a wall-size tile mural in the natatorium of the new recreation services facility.
"Iowa State loves representational art -- it tells a story," Pohlman said.
Many of the installations will occur, or at least begin on Aug. 8, what Pohlman has dubbed her "D Day." Following is a brief summary of what's going where:
Small animal hospital, Veterinary Medicine campus
Three bronze sculptures of pets (dogs and a cat) by Gwynn Murrill of Los Angeles, will be installed throughout the yard outside the hospital entrance.
Nine wood murals of animals, from companion pets to wildlife, by Sarah Grant and an artist team at Sticks Inc., Des Moines, were installed in July in the patient waiting area.
Two wood totems depicting male and female veterinarians, also by Grant and Sticks artists, will be installed in alcoves adjacent to the entrance.
The original terra cotta sculpture of The Gentle Doctor by Christian Petersen, will be reinstalled just inside the entrance. For nearly four decades, it was outdoors in front of Petersen's veterinary medicine mural at the college's former Lagomarcino Hall location. In 1976, when the college moved to its current location, the original was refurbished and moved indoors to the Scheman Building. A bronze cast was created for the main Vet Med entrance.
State Gym renovation and addition
Iowa State's first neon public art, by Terry Allen of Sante Fe, will be installed inside and outside the facility. Allen's art is 18 words, sentences and phrases from the intersection where physical movement meets intellectual inquiry, for example "fate" with a blinking "e," or "Heaven Now What?" strategically placed at the top of a climbing wall.
Ceramic tile mural of a female swimmer, approximately 75 feet long by 12 feet high, by alumnus Eric Sealine of Boston, will be installed in 18-inch by 18-inch sections in the new pool area.
Horticulture Hall greenhouse replacement
Wood mural of plants and landscape design, also by Grant, that wraps across several walls, will be installed in the main (southwest) foyer.
A 5-foot aluminum sculpture, Yellow Tulip, by alumna Karen Strohbeen and William Luchsinger, which has been at two other campus sites, will be reinstalled outside the southwest entrance.
Anderson Sculpture Garden
Reclining Nudes, a 1936 terra cotta wall fountain by Petersen, will be reinstalled on a new brick wall between the Hub and Morrill Hall. Originally it was installed on the front of an exterior staircase at Roberts Hall in the Richardson Court residence neighborhood. About 10 years ago, it was removed and conserved, awaiting another location.
Alcove, an environmental installation (featuring limestone bench and engraved pavers, bronze book stacks) by Harriet Bart of Minneapolis, will be reinstalled in this area. Completed in 1995 for the area under the front stairs in the renovated Catt Hall, it was removed in 2008.
Hach Hall
The second phase of the environmental exhibit elemental by Norie Sato of Seattle was installed in a glass presentation case in the lobby.