June 30, 2011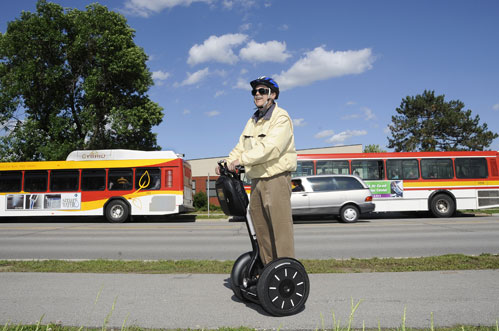 Charles Schwab sandwiches his summer work day between enjoyable, stress-relieving commutes. Photo by Bob Elbert.
Blissful commute
by Diana Pounds
Summertime, and commutin' is easy. That is, if you're riding a Segway along Stange Road, blue sky above, and a light breeze wafting off Veenker golf course. In fair weather, Charles Schwab, professor of agriculture and biosystems engineering, usually starts and ends the workday with a 2-mile commute on his Segway.
It was the green factor (the vehicle is 100 percent electric) that piqued Schwab's interest in getting a Segway. It was the fun factor that sealed the deal.
Schwab said he pondered getting a Segway for a couple of years, working to justify the purchase based on gas savings and its eco-friendliness.
"My wife turned on the light bulb," he said. "She pointed out it's not always about saving money. It's also about having fun going to and from work."
Schwab took the plunge and, several months into Segway travel, says he loves the ride and finds it reduces his stress level.
"I also love bikes," he said. "But I don't ride to work. No matter what I do, I always seem to get grease on my pants."
So while the weather holds, Schwab plans to roll up gas-free miles on the Segway, gliding between home and campus at an easy-going 12 mph.
"I know it's faster than a golf cart," he said, "because I've caught one before."