May 26, 2011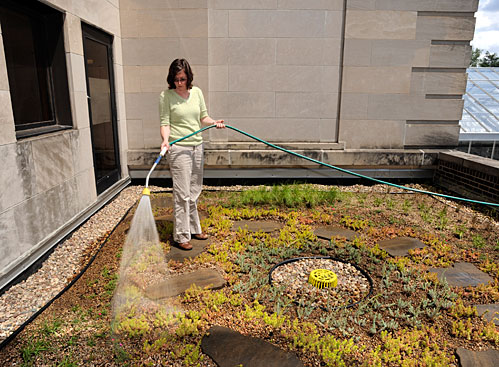 Jennifer Bousselot maintains the newly planted green roof on Horticulture Hall. Photo by Bob Elbert.
Hort rooftop gets a little patch of green
by Erin Rosacker
About three days into her new job at ISU, Jennifer Bousselot asked her department chair if she could "green that roof" -- a 378-square-foot area that tops a one-story section on Horticulture Hall's south side. It took about 30 seconds to get a thumbs up.
Bousselot, an ISU alumna from DeWitt, returned to her alma mater in April 2010 as a horticulture lecturer and coordinator of ISU Extension's Master Gardener program. She secured a grant from the Iowa Nursery and Landscape Association for the green roof project, and got Chicago-based American Hydrotech on board to donate most of the materials.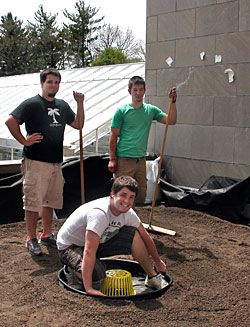 Members of the landscape and horticulture clubs helped install Horticulture Hall's green roof. Photo by Karina Antonetti.
That's when she got the students got involved. The landscape club designed the green roof layout and joined forces with the horticulture club to install it during finals week. But you can't just dump a bunch of dirt on a rooftop and call it green.
"The process involves a series of layers, like building a lasagna," Bousselot said.
There's a waterproof membrane, a protective cap sheet, a barrier that keeps the roots from penetrating the rooftop, edging, filter fabric and a drainage layer. Don't forget the soil (a lightweight growing medium) and plants.
Bousselot said there are more than 600 plants on the roof -- a variety of six perennial species, including succulents, ground cover and bunch grasses. She said the plants will winter like those that are planted at ground level. Right now, she is weeding, irrigating and fertilizing until the plants become established.
"When the plants fill in, there will be little weed pressure," Bousselot said. "The roof's maintenance will be minimal after about two years."
She plans to use the green roof for hands-on teaching in her classes. But the previously unattractive space already added a visual bonus to the building.
"The hallway windows overlook it," Bousselot said. "The building occupants can benefit from the view as they pass by it every day."