Feb. 17, 2011
ISU Theatre brings emotional 'Miracle' to stage
by Erin Rosacker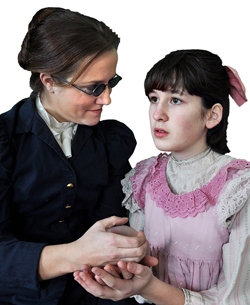 The Miracle Worker's emotional story of a teacher's breakthrough is based on the true experiences of Annie Sullivan (Vicky Stafford) and Helen Keller (Andie Newell). Photo by Nancy Thompson.
ISU Theatre's spring production schedule will open with a two-weekend run of The Miracle Worker at Fisher Theater, beginning Friday, Feb. 25.
The true story portrays the relationship between Helen Keller and her teacher, Annie Sullivan. Keller, who lost both her hearing and sight to illness as an infant, turned into a belligerent, undisciplined child in 1880s Alabama. At wits' end, her parents hired Sullivan as a teacher for their uncommunicative daughter. What follows is an emotional journey through anger, discovery and trust.
"Anybody who has been a parent, a teacher or tried to reach someone emotionally or intellectually unreachable knows something of the feeling of triumph when you finally are able to break through," said Jane Cox, professor and ISU Theatre program director. "When it finally happens, it's very moving."
Senior Vicky Stafford portrays Annie Sullivan. Andie Newell, an eighth-grader at Ames Middle School (and daughter of ISU professor Jay Newell and ISU ombuds officer Elaine Newell), is cast as Helen Keller. Both actors learned sign language for their roles, and had to master the demands of scenes with intense physical conflicts during Keller's raging tantrums.
"Vicky and Andie have had a huge amount to learn," Cox said. "It's very physical in parts. They really go into it with full commitment, which you have to do."
Tickets for The Miracle Worker are $15 ($13 seniors, $8 students), and available at the Iowa State Center ticket office or through Ticketmaster. Show times are 7:30 p.m. on Fridays and Saturdays (Feb. 25-26, March 4-5), and 2 p.m. on Sundays (Feb. 27, March 6).