Jan. 27, 2011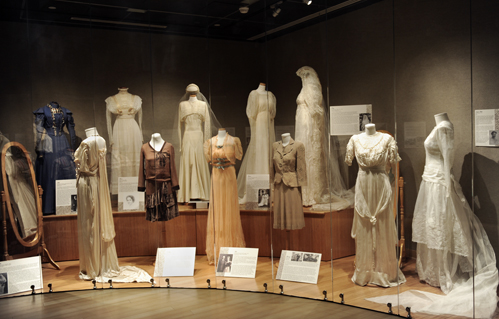 Photos by Bob Elbert.
Mary Alice Gallery is wedding central this spring
by Erin Rosacker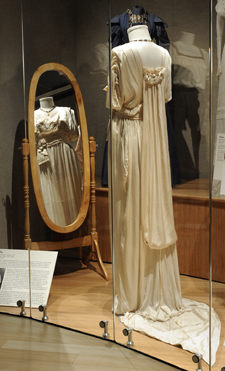 A new exhibit debuted Monday at the Mary Alice Gallery in 1015 Morrill Hall. "Weddings in the Heartland: Apparel, Traditions, Memories," features historic wedding apparel from the Textiles and Clothing Museum collection.
The exhibit features 19 wedding gowns. The oldest is a vintage dress from 1897, the newest is a 2009 design. Janet Fitzpatrick, exhibit curator and lecturer in apparel, educational studies and hospitality management, said each piece was specifically selected for the display because it has a story to tell.
"All of the gowns are connected to the university or the state of Iowa," Fitzpatrick said. "Each dress has an anecdote about the dress, the wedding or the person."
For example, Fitzpatrick said there is a story about generations of wedding day serenades associated with a well-used satin wedding dress from 1914 (pictured at right). Another highlight of the collection comes from executive vice president and provost Elizabeth Hoffman. The dress she made for her 1966 wedding is featured, along with her veil, a family heirloom from Russia.
An opening reception for the exhibit will be held Sunday, Jan. 30 (1:30-3:30 p.m., Mary Alice Gallery). The exhibit runs through April 16. Gallery hours are 11 a.m.-4 p.m., Monday-Friday, with extended hours Feb. 13 and 20, March 6 and 27 and April 9 (1-4 p.m.); and April 16 (1-3 p.m.). Photo by Bob Elbert.