Jan. 6, 2011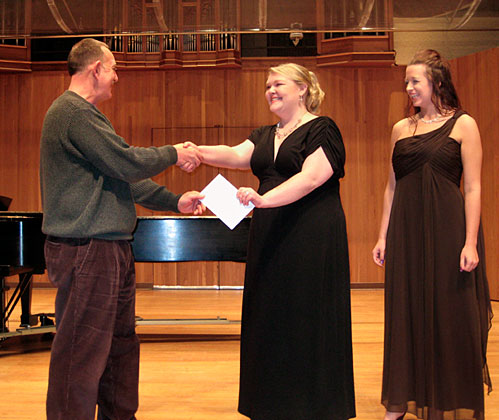 Iowa State Center general manager Mark North presented career development awards to (left) Karen Jesse (Oberlin Conservatory, Ohio, and Curtis Institute, Philadelphia) and Allison Czer (University of Iowa) at last year's Metropolitan Opera National Council auditions in Ames. Submitted photo.
The next great Metropolitan Opera star just might audition in Ames Saturday
by Sara Compton, Iowa State Center
On Jan. 8, nearly 30 up-and-coming opera singers will pin their hopes on the Metropolitan Opera National Council auditions being held in Tye Hall, Music Building. Auditions begin at noon and the public is invited to sit in for some or all of them.
Ames entrants will come from as far away as San Francisco and Philadelphia, but also as close as Iowa City and Marshalltown in this "sing-off" of sorts. Following the auditions, a reception during the judges' deliberation provides audience members an opportunity to meet the singers.
The Met auditions are designed to discover promising young opera singers and assist in developing their careers. The feedback participants receive from nationally recognized judges ranges from career advice to recommendations for advanced study or apprenticeships. At each level, singers vie for cash awards to assist with further study.
Annually, approximately 100 former audition contestants appear in productions of New York City's Metropolitan Opera.
The tradition
Each year, more than 1,500 aspiring young singers enter the Metropolitan Opera National Council auditions in 41 districts in the United States and Canada. Winners of the district auditions advance to one of 14 region finals where they compete to win a trip to New York to participate in the national semifinals, held on the stage of the Metropolitan Opera House. Approximately 10 singers make it to the final round and compete in a public concert, accompanied by the Metropolitan Opera Orchestra. The jury awards approximately five Grand Winner awards ($15,000 for music studies).
Winners also are eligible to audition for additional grant money over the next three years. In this way, the council has the opportunity to track the singers' progress and assist in their career development.