Nov. 18, 2010
Ashes to ashes: FPM taking steps to lessen EAB impact
by Erin Rosacker
Adult emerald ash borer. Photo courtesy of the U.S. Department of Agriculture.
Although it's an estimated 10 years away, the imminent arrival of the devastating emerald ash borer (EAB) prompted facilities planning and management to develop a readiness plan to help minimize the cost and impact of losing the campus ash tree population all at once. At the close of the last fiscal year, FPM staff earmarked about $30,000 in unused funds and invested it in the EAB plan.
"We want to ease ourselves into this -- financially and aesthetically," said Rhonda Martin, campus landscape architect in FPM.
As part of the FPM readiness plan, every ash tree (1,260) on campus was cataloged and rated on a scale of one to five. The weakest ash trees (28), many of them dying, were removed over the last two years. Still, approximately 20 percent of the ISU campus tree population consists of ash trees, which come in four varieties -- black, green, white and blue. FPM's plan is to gradually cut back to a healthier 8 percent (about 500).
What about my trees?
Homeowners are not being encouraged to remove all of their ash trees. Damaged or dying trees could be taken down initially (they attract infestation), but healthy ash trees still can be enjoyed for the next several years. If you have several ash trees, think about planting and establishing a replacement variety now if your landscape allows.
ISU horticulture professor and chair Jeff Iles has offered some recommendations for homeowners, and ISU Extension has developed an EAB website with additional information and resources.
The year-end money will help achieve that ratio within an inner campus area (see map below) through removal of 30 to 40 ash trees. Tree removal will take place over winter break -- an optimal time for two reasons: Heavy equipment does less damage to firm ground, and pedestrian and vehicular traffic will be lighter. For each ash that is removed, a replacement tree will be planted. Replanting will begin next spring with a diverse selection of varieties, Martin said.
Part of the plan
FPM staff worked with several departments, such as forestry, horticulture and landscape architecture, to identify which ash trees are important to outdoor teaching lab activities. Once the emerald ash borer arrives in the area, every effort will be made to save those trees. Currently, the best method is a root injection of pesticides, an annual process that will be required for the life of the tree.
Early steps in the EAB readiness plan already were implemented. Ash trees have not been planted on campus since 2005, and FPM has not required construction and utility crews to protect ash trees near their projects. As budgets allow, ash trees will be removed in other areas of campus in the years leading up to the insect's arrival.
Treecycling
The felled ash trees will be put into FPM's "treecycle" program, which keeps nearly all of the wood for use on campus. The largest trees can be used for lumber or furniture and woodworking projects. Smaller branches and trees will be chipped into mulch, and the leftover wood will be made available to the public through the free wood program (near the coal pile on the east side of Haber Road).
About the emerald ash borer
The emerald ash borer was first discovered in Michigan, a suspected hitchhiker in wooden packaging from Asia. The "green menace" swept across portions of the upper Midwest, leaving no ash tree unaffected. The insect was found this summer on a Mississippi River island on the eastern edge of Allamakee County in northeast Iowa.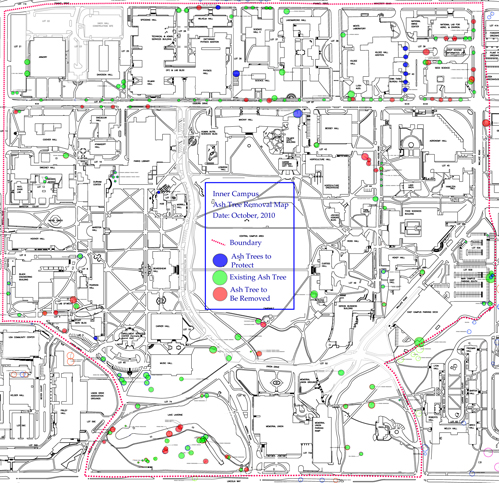 Inner campus ash tree map. Click here for a downloadable PDF.