Nov. 4, 2010
ISU Theatre brings stories to life in The Arabian Nights
by Steve Jones, LAS Communications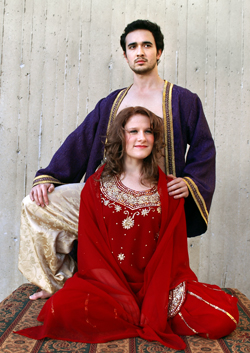 In ISU Theatre's production of The Arabian Nights, King Shahryar (Chris King) is enchanted by the nightly story-telling his young bride Scheherazade (Brittny Rebhuhn) uses to save her life. Photo by Casey Gradischnig.
The 1,001 stories of a young bride that feature genies, jesters, thieves and kings highlight ISU Theatre's production of The Arabian Nights at Fisher Theater, beginning Nov. 5.
The story by playwright Mary Zimmerman is a sensitive adaptation of the medieval Middle East literary epic The Book of Thousand Nights and One Night. King Shahryar (senior Chris King), a Persian sultan, mistrusts all women after the betrayal by his first wife. Facing the certainty of a death sentence, his latest young bride Scheherazade (sophomore Brittny Rebhuhn) tells him a story on their first night together and begins a second one. The sultan eagerly awaits the conclusion on the following night. After 1,001 nights of storytelling, he makes her his queen.
"The piece is scripted as a narrative. Sometimes it's a story within a story within a story," said guest director egla Birmingham, a professor of theater at Western Illinois University. "This play celebrates the power that stories, or fiction or parables, have to transform us -- like Shahryar, we have the capacity to be changed."
The Arabian Nights gives us a good look at a medieval culture during the Islamic Golden Age, Birmingham said.
"It's a time when the culture was the richest center in the world. I want to celebrate that culture," she said, adding that this adaptation is true to the original tale.
The Arabian Nights will take place in Fisher Theatre, which will be decorated to resemble the interior of a large tent. Performances are Nov. 5, 6, 12 and 13 at 7:30 p.m., and Nov. 7 and 14 at 2 p.m. Admission is $15 for adults, $13 for students and $8 for students. Tickets are available through Ticketmaster, the Iowa State Center ticket office or at the door before the performance.