Sept. 16, 2010
Latest green experiment: Morrill Road street lights
by Diana Pounds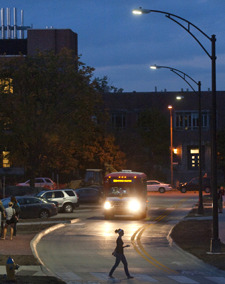 Photo by Bob Elbert.
Fifteen new street lights along Morrill Road and Union Drive are expected to save some $1,225 in energy costs annually.
The lighting represents Iowa State's foray into LED (light-emitting diode) street lights, which have several advantages over the traditional high-pressure sodium street lights, said Randy Larabee, chief electrical engineer in facilities planning and management.
If the LED lights live up to manufacturer claims, they will use about one third less electricity than the old lights and last five times longer.
The lights cost about three times more than traditional street lights, but the increased costs are expected to be paid for with energy and maintenance savings in a little more than three years, Larabee said.
Spreading the light
LED street lights spread more uniform light across a wider area than traditional lights, said FPM electrical engineer Marc McKee. The older street lights cast a small, bright light with increasingly darker shadows on the edges.
While LEDs have been around a while, they're relatively new in street lights, Larabee said.
"We started looking at the lights about three years ago," he said. "At that time, the lights were more expensive and not nearly as efficient as they are now.
"The technology has gotten better and prices came down enough that we were comfortable doing some testing," he added.
McKee said FPM will conduct a second test of LED street lights soon. Lights from a different manufacturer will be installed along Beach Avenue, from the north entrance of the Lied Recreation Center to Lincoln Way.
If the lights hold up like manufacturers claim they will and deliver the energy and maintenance savings, expect to see them popping up on campus in a couple of years, Larabee added.