March 25, 2010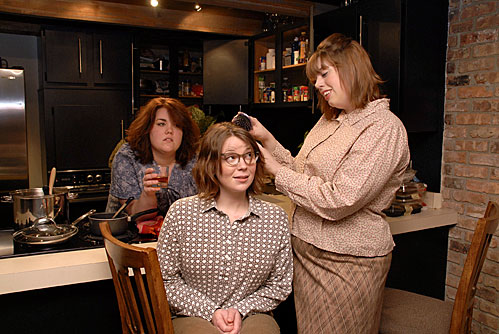 The dysfunctional relationships between Beatrice (Tammy White, left) and daughters Tillie (Lindsey Allen, center) and Ruth (Anna Krieger, right) provide the drama in this Pultizer Prize-winning drama. Photo by Patrick Gouran.
Radioactive relationships
by Erin Rosacker
ISU Theatre, with guest director Todd Buchacker, brings the Pulitzer Prize-winning drama, The Effect of Gamma Rays on Man-in-the-Moon Marigolds, to the Memorial Union Maintenance Shop March 25-28.
Buchacker, on loan from the Des Moines-based StageWest Theatre Company, is managing a primarily student-designed production.
"It's been exciting to work with students," Buchacker said. "There is lots of energy and great ideas."
Written by Paul Zindel, the 1960s drama depicts the dysfunctional relationship between a single mother and her two daughters. Domineering and abusive, Beatrice (senior Tammy White) exacts the pain and disappointment of her own life upon her daughters, Ruth (senior Anna Krieger) and Tillie (senior Lindsay Allen).
As Tillie works on her science fair project (for which the play is named), the relationships between the three females become clear. Self-centered Ruth purposely ridicules both her mother and sister, constantly worrying they will embarrass her. Tillie, like her mother, is a bit of an outcast. But through thoughtful intelligence, she overcomes the obstacles that her mother and sister present to shine at the science fair.
"There is not a lot of hope in the world they live in, but we hope that Tillie can get outside of that world," Buchacker said. "This is about [Tillie] coming out of her shell and feeling good about herself."
Zindel's play won the 1971 Pulitzer Prize for Drama. A 1972 film version directed by Paul Newman stars Joanne Woodward as Beatrice. Show times are 7:30 p.m. Thursday-Saturday, and 2 p.m. on Sunday. Tickets, available at the Maintenance Shop box office, are $15 ($13 for seniors, $8 for students).