March 25, 2010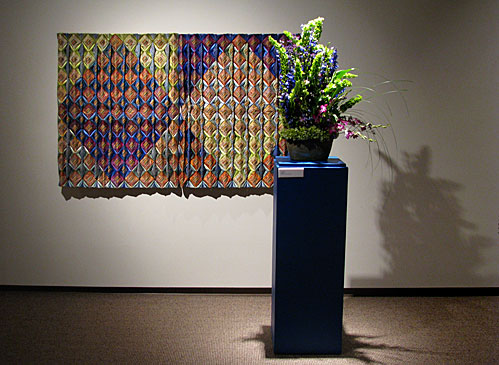 Blooms at Brunnier
by Paula Van Brocklin
Brunnier Art Museum is celebrating spring's arrival with its second annual "Brunnier in Bloom" exhibition, March 26-28. The three-day event showcases elaborate flower arrangements created by local florists to mimic artwork currently on display in the museum. The show runs Friday from 6 to 8 p.m., and Saturday and Sunday from 1 to 4 p.m.
Floral designers can portray a wide range of artwork, from realistic N.C. Wyeth paintings, to modern chairs, to metal sculptures.
"Nothing is off limits," said Allison Juull, collections manager and communications coordinator, University Museums.
The only stipulation is that each of the 15 to 20 participating floral designers must replicate a different piece of art.
Take an arrangement home
Attendees may participate in a silent auction and raffle Friday evening, new to this year's event. The artistic flower arrangements will be up for bid throughout the evening. High bidders may take home the arrangements following the exhibit's closing on Sunday afternoon.
A raffle also will take place Friday. Prizes include a garnet and silver necklace, an original watercolor painting and an embroidered stadium blanket. Tickets are $1 each or $5 for seven. Proceeds from the raffle will help support future "Brunnier in Bloom" exhibits and other museum programs.
Top honors
The top arrangements, judged by John Cunnally, associate professor of art and design; and Ames mayor Ann Campbell, will be awarded cash prizes. One Best in Show will receive $100; two honorable mentions will earn $50 each. The awards will be announced Friday at 7 p.m. The People's Choice award ($50) will be announced Sunday at 2 p.m.
High expectations
Last year's inaugural exhibition yielded about 550 visitors over three days. Juull looks forward to a similar turnout this year.
"It's a really unique way to experience works of art, to experience the interpretation through someone else's eyes," Juull said. "There's a little bit of something for everyone."
"Brunnier in Bloom" is free and open to the public, though a $3 per person donation is appreciated.