Dec. 17, 2009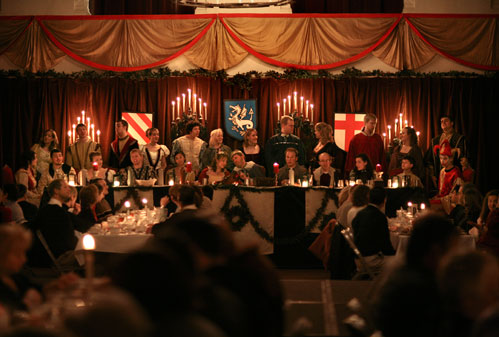 Contributed photo.
Dine with medieval royalty Jan. 15-16
by Erin Rosacker
Tickets are available now for the 45th edition of the music department's madrigal dinner, Jan. 15 and 16 in the Memorial Union Great Hall.
A fully costumed medieval court accompanies King James and Queen Anne at the royal banquet, which features theatrical performances, singing and dancing in the midst of the candlelit hall. Entertainment includes performances by the Iowa State Singers, The Music Men, Musica Antiqua and Orchesis II.
"We hope to bring our audience back 400 years to Merrie Ole England," said James Rodde, music professor and madrigal dinner co-director. "This year the jester and jouster vie to be the King's jester, Robin Hood makes an appearance and 'Julio and Romiet' tell their story."
Each night, a 5:30 p.m. social hour precedes the fanfare processional into dinner at 6:30 p.m. Roast pork headlines the three-course meal, but a vegetarian option is available by request. Salad, herb roasted potatoes, squash with wild rice and plum pudding also are on the menu. A cash bar is available during the social hour and wine is available during dinner.
Tickets are $40 ($36 for ISU students and seniors), and can be purchased in person or by phone (4-8349) at the MU ticket office (11 a.m.-5 p.m., weekdays); or by mailing a completed order form.