Nov. 12, 2009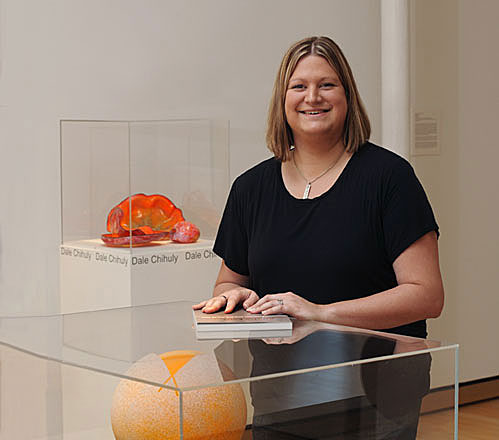 Allison Juull, collections manager and communications coordinator with University Museums, has an innate love of art. She works every day to help ISU students also gain an appreciation of the visual arts. Photo by Bob Elbert.
Crossing the threshold
by Paula Van Brocklin
Allison Juull loves the "aha" moments -- when a student stands before a piece of art during a visit to one of three museums that make up Iowa State's University Museums, and "gets it." The student understands, and perhaps even appreciates, what the artist is attempting to convey. That's the moment, according to Juull, the student has crossed the threshold -- art is no longer something to be feared, but something to be embraced.
The aha moments are sprinkled throughout Juull's position as collections manager and communications coordinator for University Museums. As collections manager, she's responsible for keeping track of the 30,000 objects in the Museums' permanent collection, making sure they get out of storage, into an exhibit and back into storage without a scratch. And as communications coordinator, she handles the museums' public relations and marketing efforts, doing everything from writing press releases to designing exhibition books to updating the Museums' Facebook and Twitter pages.
Student becomes the teacher
In addition to her regular duties, Juull also co-teaches the "Introduction to Museums" undergraduate course with Museums' director Lynette Pohlman and textiles and clothing faculty. And in true serendipitous fashion, this is the same class she took during fall semester 2000 as an ISU senior, which helped her land an internship with University Museums the following spring. After she graduated in 2001 with a bachelor's degree in history, the Museums hired Juull full-time.
Target audience
In her public relations role, Juull spends a lot of time thinking about how to best reach the Museums' target audience, which she describes as the "elusive Iowa State student."
"[Students] are so busy," Juull said. "They are bombarded with all kinds of events on campus, which is great because we have a really active campus. But to make your event stand out, it often takes multiple means of information dissemination."
But despite her best efforts to reach students through Facebook, Twitter and old-fashioned e-mail messages and fliers, there still are many students unaware of University Museums and what it offers. That's when professors sometimes step in, requiring students to visit the museums for a class.
"They get that initial visit down, and then they feel 100 percent more comfortable coming back," Juull said. "And maybe they bring a boyfriend or girlfriend or a roommate or a friend. It then starts to build."
Juull believes the key to unlocking students' appreciation of art is that first step -- literally -- into the museum. To get them through the door, she believes you have to look at what keeps students away in the first place.
"What prevents students from walking in is the unexpected, or something they can't interpret," she said.
But then something clicks. They stand transfixed as they ponder realistic N.C. Wyeth paintings, or they closely examine the contemporary glass forms by Dale Chihuly.
"They think, 'Wow, this is neat.' That's what keeps them coming back. It's getting over that threshold of not understanding or being afraid of what they will encounter."
And Juull knows it's important to keep students coming back.
"Those freshmen who are exposed to the art on campus, they are our future donors," Juull said. "That's fostering a new generation for us. That's the generation that's going to go out in the world more culturally well-rounded because they were exposed to the arts."
Art appreciation
While Juull enjoys being surrounded by art every day, she's not an artist.
"I'm an anomaly," she said. "I can do a stick person really well, that's about it. I'm not crafty or artsy. I have no talent in that area whatsoever."
She credits her parents, both life-long educators, for developing her love of art. With their summers free, Juull's parents carted her all over the world, including Europe, China, Egypt, Turkey, the Greek Isles, South America, the Caribbean, Canada and the United States. She was 3 years old the first time she went overseas. On every trip, she visited museums and churches, steadily gaining an appreciation and understanding of art and history.
Like her parents did for her, Juull wants to expose Iowa State students to the value of art and museums.
"Those aha moments are what all museum folks live for," Juull said. "We get it, but it's fun to see others get it, too."