Oct. 22, 2009
Join the hunt at Haunted Iowa State
by Paula Van Brocklin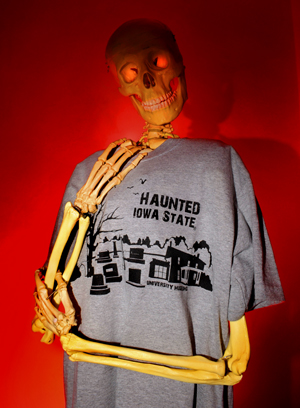 University Museums staff created T-shirts this year to promote their popular "Haunted Iowa State" tours. The shirts are $15 at the museum store in Scheman, the Christian Petersen Art Museum and the Farm House. One would look good on you, too. Photo by Bob Elbert.
Bring a flashlight, a warm coat and all the courage you can muster Oct. 28 to "Haunted Iowa State," the annual Halloween trek across campus sponsored by University Museums. Self-guided tours begin at 7 p.m. at the campanile (rain or shine). The theme of this year's event is "Join the Hunt," a nod to the popularity of ghost-hunting reality television shows.
Allison Juull, education specialist with University Museums, said fewer stops are on this year's tour. Last year's event featured stops at 15 locations.
"We've pared it down a bit to focus on eight or nine sites," Juuhl said. "We've paid more attention to those sites."
This year's tour includes spooky favorites Beardshear and Morrill halls, the Memorial Union and ISU cemetery. But don't expect to see the same ghostly antics as last year. Several of the traditional venues have been revamped to give visitors new thrills and chills. Food Sciences Building and Lagomarcino Hall will have their ghoulish debuts this year, and Gilman Hall, a new stop last year, is again part of this year's walk.
Farm House Museum is still sure to be a favorite on the tour, with free hot beverages and popcorn. Inaugural Haunted Iowa State T-shirts will be available for $15. The shirts, which feature the campanile, cemetery and Farm House, also are for sale at the Brunnier Art Museum Store (295 Scheman), Christian Petersen Art Museum (1017 Morrill) and Farm House Museum. All proceeds will fund next year's Haunted Iowa State.
Haunted Iowa State is free and open to the public.
More spooky fun
If Haunted Iowa State leaves you wanting more Halloween fun, University Museums also is hosting a Final Friday event, "Resurrection: Night at the Museum," Oct. 30 (5:30-7:30 p.m., Farm House Museum).
If you choose, come dressed as your favorite artist or artwork, and enjoy ghost stories, games, raffle prizes and refreshments. Visitors will get a special tour of the Farm House, peering into hidden spaces not usually seen by the public. Admission is free.