Oct. 15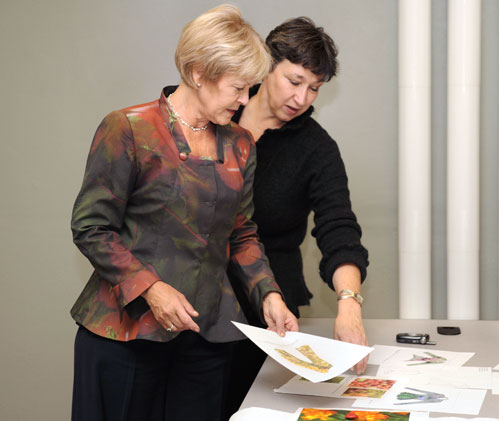 An Iowa State original
Former Iowa first lady Christie Vilsack will attend the 2009 World Food Prize Laureate Award ceremony and dinner at the state capitol Oct. 15 in a themed jacket created on campus. Her silk jacket features a pattern of tomatoes and leaves, and is the work of Jean Parsons and Natalie Sanger Gendle, faculty members in the apparel, education studies and hospitality management department. With a new state-of-the-art digital printer, Parsons and Gendle designed and constructed the jacket.
Parsons, pictured above with Vilsack at a final fitting Tuesday afternoon, said a key challenge was creating an artistic, evening garment with a pattern not normally used for formal attire. Gendle created literal and abstract interpretations of tomatoes from photos taken by Parsons at local farmers' markets and vegetable gardens.
In addition to the dressy jacket, Parsons and Gendle are making Vilsack a casual jacket and tote with veggie photos as the pattern. Vilsack requested the pieces as conversation starters to allow her to transition easily into discussion about the U.S. Department of Agriculture's "Know your farmer, know your food" campaign. Vilsack's husband, former Iowa governor Tom Vilsack, currently serves as U.S. Secretary of Agriculture. Photo by Bob Elbert.