March 17, 2003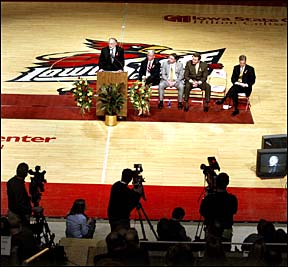 Remembering
An estimated 4,000 fans of the late Pete Taylor filled Hilton Coliseum March 9 for a memorial service (see death notice). Those speaking at the service included Eric Heft (at podium), Taylors longtime radio broadcasting colleague. Photo by Gary Clarke.


---

Ames, Iowa 50011, (515) 294-4111
Published by: University Relations, online@iastate.edu
Copyright © 1995-2003, Iowa State University. All rights reserved.