INSIDE IOWA STATE
August 31, 2001
Communication still Tops Heer's P&S list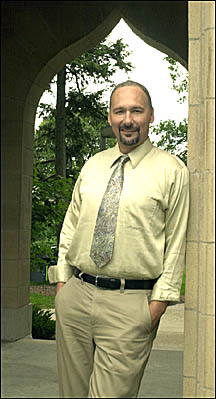 Rex Heer, P&S Council president. Photo by Bob Elbert.

by Anne Krapfl
One of the people responsible for remodeling the Professional and Scientific Council's Web site was elected to the council's top post last spring. Incoming council president Rex Heer said his commitment to improving communication both among P&S employees and among the council and other campus groups hasn't wavered.

"Better communication was the reason I first came on council (in 1999)," Heer said. "All other issues feed into this one. It's important."

Heer is a project coordinator in the creative services unit of the Instructional Technology Center.

He talked about building a stronger P&S community, by providing information that is timely, working harder to get input from underrepresented groups in the P&S ranks, and relaying recommendations to university policy makers.

"I personally think diversity adds strength to everything," he said. "The best way to avoid the discrimination that comes from ignorance is to get more people involved. I would like to issue a personal invitation to individuals from underrepresented groups to be involved in P&S committees or help us formulate recommendations and policies."

Communications committee members will continue to study online alternatives for sharing ideas among P&S employees, including surveys and chat room-like discussion groups. An online survey was piloted last spring, but log-in difficulties prevented many from participating, Heer said. And the council will continue to host monthly open forums over the noon hour. These are open to the university community; P&S employees especially are encouraged to attend.

Heer noted that President Gregory Geoffroy is demonstrating that he also is committed to strong intra-campus communication, via monthly meetings with P&S and faculty leaders, as well as a breakfast series at The Knoll that also pulls in the vice presidents, provost and executive members of the P&S and faculty leadership bodies.

"We all have different perspectives on issues. It strengthens the university if we understand what some of the other perspectives are," Heer explained.


Compensation issues float to top
Heer said the council's compensation and benefits committee, chaired this year by Barry McCroskey, has another full "to do" list. The council also may use ad hoc groups to study single issues. Some of the issues council members have identified for study include a regular review of the current salary matrix system, a heavy concentration of women in the lowest P levels and low numbers in the high P levels, a lack of career paths or even "moving up" options for many P&S positions and a growing salary overlap between Merit positions and lower level P&S positions.

"Dealing with this last one doesn't have any simple answers," Heer said. "It's not just about supervisors and the people they supervise; it's a broader issue than that. And we don't want to hold Merit salaries down. That's not the solution.

"I don't know what we'll recommend, but it needs to be studied," he said. Heer said he hopes the council also has time to follow Provost Rollin Richmond's suggestions to:
Review the P&S grievance procedure.
Consider developing a conduct policy for P&S staff so they aren't assumed to be covered by a faculty conduct policy approved in May by the Faculty Senate.
Other ongoing policy discussions, which Heer said the council hopes to be involved in, include:
A new early retirement incentive program to replace the one that expires next July 1.
A task force studying the university's budget priorities and strategic effectiveness ( see story on page 1).
An in-progress look at leave policies, especially family leave.
A plan that will cover health care cost increases anticipated for FY03.
A request for state-funded salary increases next year (at or near 6 percent) that get P&S employees closer to peers' salaries at schools similar to Iowa State.
Joining Heer on the council's executive committee this year are vice president Lynette Hornung, secretary-treasurer Sarah Cooney and at-large members Leigh Elsberry and Debra Sanborn.




---

Ames, Iowa 50011, (515) 294-4111
Published by: University Relations, online@iastate.edu
Copyright © 1995-2001, Iowa State University. All rights reserved.