Feb. 3, 2011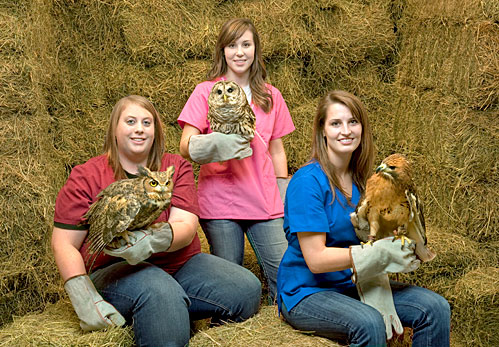 Life on the wild side
Five undergraduate students, including from left Jacie Garden and Erica Eaves, seniors in animal ecology; and Tasia Nielsen, a junior in animal science; spend much of their time (sometimes up to 10-hour days) rehabilitating injured wild animals at the Wildlife Care Clinic in the College of Veterinary Medicine. The clinic is staffed daily and also offers 24-hour emergency service.
The student-run clinic opened in 1984. During that time, the staff has treated thousands of animals, including bald eagles, red-tailed hawks, barred owls, coyotes, mink and white-tailed deer. Most of the animals admitted to the clinic suffer injuries as a result of human activity, such as car collisions, hunting accidents and power line electrocution. The clinic staff treats the animals and releases them back to their natural habitat. Some raptors, like those pictured, are kept at the clinic and used for educational purposes.
The Wildlife Care Clinic is a non-profit organization that relies on donations and income from educational programs. All funds go toward supplies for the animals. More information about the clinic is online. Photo by Bob Elbert.