March 4, 2010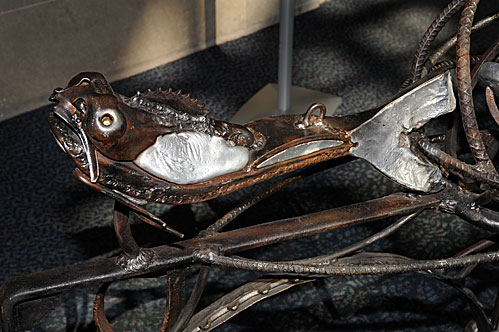 A river ran through it
There's still time to see the striking sculptures made from river trash that were on display at last week's sustainability symposium. The pieces were moved to the Parks Library rotunda and will remain on display through March. They're the work of Ogden artist David Williamson and numerous volunteers who've dredged tons of trash out of Iowa rivers over the past several years. The annual cleanup, dubbed Project Aware, is run by the Iowa Department of Natural Resources. Iowa State is a longtime project supporter.
A fish fashioned from a bicycle seat (top) is part of the river imagery in the sculpture (below). The sculpture also includes rebar canoes and an oar and work gloves cast in the "W" sign for water. Photos by Bob Elbert.
Meet the artist March 25
Williamson will give a hour-long talk (3:15 p.m., 192 Parks) and tour of the sculptures on March 25. He'll remain available in the rotunda for questions and discussion through 5:30 p.m.