Nov. 19, 2009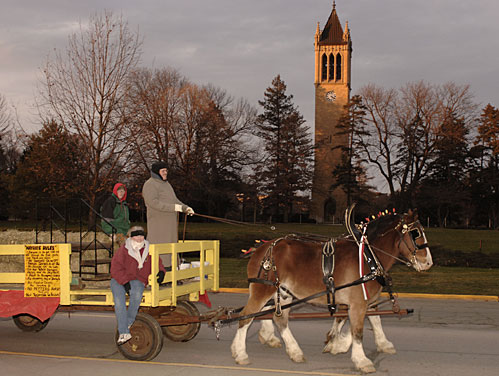 A horse-drawn wagon will make the rounds of central campus during the Dec. 2 Winterfest. Catch a ride in front of the Memorial Union or Farm House Museum. File photo by Bob Elbert.
Solar-powered lights will help illuminate Winterfest
by Diana Pounds
The illumination ceremony will be leaner and greener at the annual Winterfest celebration on Dec. 2. A tradition at the student-organized winter celebration has been the lighting of central campus, including a large tree near Beardshear Hall. The tree will not be lit this year in one of many cost-cutting measures to meet mid-year budget reversions. Forgoing the tree lights will save approximately $4,000 in set-up and take-down costs.
Still, there will be lights aplenty south of the campanile and on the north side of the Memorial Union, where most Winterfest activities will take place. And many of those lights will be solar-powered, thanks to a gift from the Government of the Student Body.
Popular favorites
The traditions that have made Winterfest popular with members of the Iowa State and Ames communities remain a part of this year's celebration, said Lucas Novotny, graduate student in the Student Activities Center and Winterfest graduate adviser. They include horse-drawn hay wagon rides on central campus, campanile tours, a carillon concert, a University Book Store open house, art sales, hot chocolate at The Knoll, a craft workshop and a 5K run/walk to raise scholarship funds.
New additions
A couple of new activities added just for ISU students include laser tag, ice skating and a cookie baking contest among residence hall floors and Greek house directors, Novotny said.
Winterfest is sponsored by the Student Activities Center, University Book Store, ISU Dining, GSB, Student Union Board, the Workspace and the Memorial Union. It is free and open to the public.
7:45 a.m.-7 p.m., University Book Store annual holiday open house
Events and specials throughout the store.
Block and Bridle Club will take orders for meat and cheese, 11:30 a.m.-6:30 p.m.
Cy visit, noon-1 p.m.
Book signings: Giles Fowler, 5-7 p.m.; Daria Schmidt, 5-7 p.m.; Cy signing "Hello Cy," 6-7 p.m.
11 a.m.-7 p.m., Art Mart: arts and crafts sale (Maintenance Shop, Memorial Union)
Artwork for sale: Blown glass, pottery, prints, jewelry and more.
Sponsored by The Workspace, Gaffer's Guild and University Print Society
3-6 p.m., Holiday open house at The Knoll
Enjoy a cup of Knoll hot chocolate with host Kathy Geoffroy.
4:30-5:30 p.m., Registration for Andy Albright Jingle Jog (Cardinal Room, MU)
5K run/walk benefitting Freshman Council's scholarship fund ($15), follows the illumination ceremony.
Preregister at http://www.fc.stuorg.iastate.edu.
The jog/walk immediately follows the illumination ceremony. Participants meet near the campanile.
4:30-5 p.m. and 6-6:30 p.m., Campanile tours and carillon concert
By carilloneur Tin Shi Tam.
5-7 p.m., Empty Bowl Project, soup dinner fund-raiser (Campanile Room, MU)
Buy a bowl from a local artist and fill it with soup for dinner. Proceeds benefit Mid-Iowa Community Action and Oxfam.
$10 public/$8 students/$6 kids 10 and under, $1 off with non-perishable food donation
5-9 p.m., Winter crafts (Workspace, MU)
5:30 p.m. Illumination Ceremony (south campanile lawn)
Music and lights south of the campanile and on the north side of the MU.
6 p.m., Toasty treats (Commons, MU)
Cookies and hot chocolate.
6-9 p.m., Central campus wagon rides
Pick up in front of the MU and Farm House Museum.
6-11 p.m., Laser tag (Great Hall, MU)
For ISU students only.
7 p.m., Photo snow globes (Multicultural Center, MU)
Take a photo and put it inside your own snow globe.
7-9 p.m., Wii Rock Band tournament (Underground, MU)
8 p.m., Cookie baking contest judging (Gold Room, MU)
Entries by residence floors or Greek house directors.
9 p.m.-midnight, Snow Glow Bowling (Underground, MU)
Free bowling and billiards.
10 p.m., Grandma Mojo's Moonshine Revival (Maintenance Shop, MU)
Student comedy troupe, $1.
Midnight-2 a.m., Free ice skating (Ames/ISU Ice Arena)
For ISU students only.