Nov. 5, 2009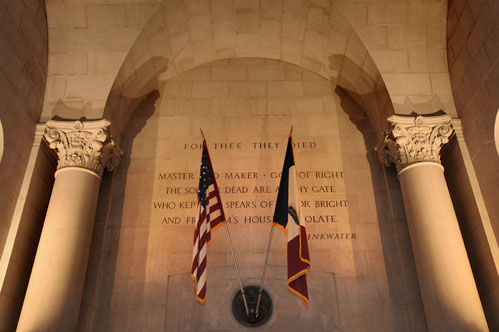 Memorial Union Gold Star Hall. Photo by Bob Elbert.
Remembering ISU's fallen soldiers
by Erin Rosacker
Seven names will be added to the Gold Star Hall's list of former Iowa State students who died on active combat duty in a Nov. 11 Veterans Day ceremony (2:30 p.m., Great Hall, Memorial Union). The names include soldiers who died in World War II and the Korean and Vietnam wars.
The ceremony, which is free and open to the public, will include personal stories and photos of the soldiers. Some of the veterans' family and friends will be in attendance. Kathy Svec, Memorial Union marketing director, and assistant registrar Judy Minnick have worked to identify former students (not necessarily graduates) who were omitted from the memorial. Names have been added in each of the last four years.
The latest ISU soldiers to be honored include:
Kenneth Norman Okeson (Wakefield, Neb.), World War II
Robert Emory Dummermuth (Elgin), Korea
Charles Emery Collins (Melbourne), Korea
Carl Jacob Claus (Plymouth), Korea
Sidney Jasper Botts (Elliott), Korea
William Ward Sharp (Plover), Korea
Michael Keith Lewis (Lake City), Vietnam