December 12, 2003
No business like shoe business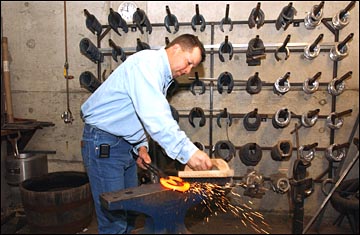 Some call Dan White an "equine podiatrist," others call him a "shoer," but officially he's a farrier. White custom-builds and fits corrective shoes for horses at the Veterinary Teaching Hospital. Photo by Bob Elbert.

There is no P&S job title for what Dan White does.

Yet his job descends from a trade as old as metal itself, a craft handed down from medieval to modern, from master to apprentice.

White is a farrier. In some circles, he's called an equine podiatrist. In others, he's known as a "shoer."

White custom-builds and fits corrective shoes for horses at the Veterinary Teaching Hospital. Only a handful of veterinary colleges have farriers on staff, which is one reason White's clients come from throughout the country.

The other reason?

"Dan is one in a million," said Diane Grossman, whose race horse Captain Fina traveled from Texas for hoof care from White.

"I won't take my horse to another farrier. Not all farriers specialize in therapeutic work," Grossman said. "Captain Fina is an extremely talented race horse. If his shoeing isn't done right, it could end his career."


Farriery revival
The profession of farriery nearly disappeared with the advent of automobiles and tractors. It has experienced a revival over the past

50 years, however, with the increasing popularity of horses in sports and shows. White's clients are racehorses, barrel horses, trail horses and jumpers.

"People use horses for sports, and, like human athletes, their anatomy wears out. It takes a toll," White said.

And it keeps White busy. Much of the year, he treats and shoes an average of nine horses a day. His day can start as early as 6 a.m. and ends whenever he's finished -- as late as 9 or 10 p.m. He participates in rounds with equine clinicians and students, and sees horses the rest of the day.

White spends from 15 minutes to six hours with a horse. Most are shoed in the stall next to his shop; others are treated in surgery while anesthetized.

Some days his patient load necessitates extra help from one of the 50 other farriers in Iowa. During two weeks each year, he teaches equine podiatry to fourth-year veterinary students.


Three-year apprenticeship
Farriery requires skills that don't come easily. White attended farrier school in Kentucky, then apprenticed for three years. He's a certified journeyman farrier, the highest level of certification available. He's been with Iowa State for five years.

"When I grew up, we could never touch a horse's feet. We always had to consult with the farrier. Even our vet had to consult with the farrier! I never would have guessed I'd grow up to be one," White said.

"I just wanted to learn how to do my own horse and I kind of got carried away with it," he chuckled.

White tends to horses with laminitis (a painful disease that affects horses' feet) lameness problems, fractures and navicular syndrome (a common degenerative disease of a bone inside the hoof). Each case is different and requires a distinctive solution.

"It's a creative job. The equine clinicians and I put our heads together and usually we can determine the best therapy and type of shoe for the horse," White said.

White takes the idea into his workshop and fires up a gas forge the size of a microwave. Although the small shop houses a grinder-buffer, drill, bench sander and electric saw, most of the tools are primitive looking hammers, mallets and anvils.

"Many tools look the same as they did 100 years ago. The profession really hasn't changed much," White said.


Nailing shoe is a crucial time
White begins the actual shoemaking with a lengthy, thin bar of steel or aluminum. Using long-handled tongs, he holds the metal in the forge until it heats to a dull red or straw color, then quickly moves it to the anvil. With a hammer, he shapes the glowing metal into a curve the shape of the horse's foot. He repeats the process several times -- back and forth between forge and anvil --refining curves, punching in ridges or hammering the crease in the shoe. The nail holes are punched last.

Nailing the shoe onto the horse is among the farrier's most crucial jobs. Farriers are trained to know precisely where to place the nail within an area of the hoof wall that is no wider than one-eighth of an inch. White performs the task with confidence and skill. White expects to be a farrier for as long as he can. Much like jumpers and racehorses, farriers pay a price for doing what they love.

"This is a physically demanding job. Once a horse threw me down and I landed in physical therapy," he said.

"But I really like it. There's a new challenge everyday and sometimes it's tough to figure out," he said.

"It's pretty exciting when a horse that can't stand up when it comes in, eventually walks and performs again because of something I did."