December 12, 2003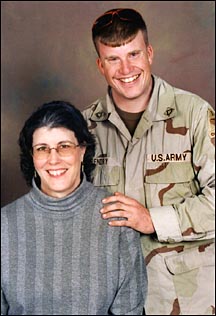 Surprise
Pat Pendry, secretary at Veterinary Medicine, had a lot to be grateful for over the Thanksgiving holiday. Her son showed up unexpectedly in her office on Nov. 20, on leave from his tour in Baghdad. PFC John Pendry returned to duty Dec. 5, but should return home for good this spring. Photo by Jim Fosse.


---

Ames, Iowa 50011, (515) 294-4111
Published by: University Relations, online@iastate.edu
Copyright © 1995-2003, Iowa State University. All rights reserved.