December 12, 2003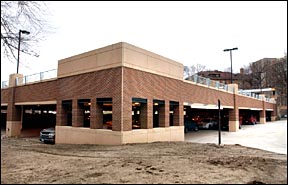 Parking deck opens
The lower level of the new parking deck in the southeast corner of central campus, south of East Hall, opened Dec. 1. Workers still are placing exterior trim on the upper level of the deck, which should open within several weeks. Photo by Bob Elbert.


---

Ames, Iowa 50011, (515) 294-4111
Published by: University Relations, online@iastate.edu
Copyright © 1995-2003, Iowa State University. All rights reserved.