December 12, 2003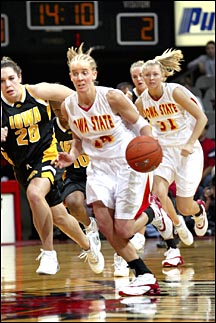 Follow me
Freshman guard Lyndsey Medders (14) leads a breakaway during the Cyclone women's double overtime win over the Iowa Hawkeyes Dec. 3. Medders and her teammates will host the Cyclone Classic at Hilton Coliseum Dec. 12-13. Photo by Gary Clarke.


---

Ames, Iowa 50011, (515) 294-4111
Published by: University Relations, online@iastate.edu
Copyright © 1995-2003, Iowa State University. All rights reserved.