November 21, 2003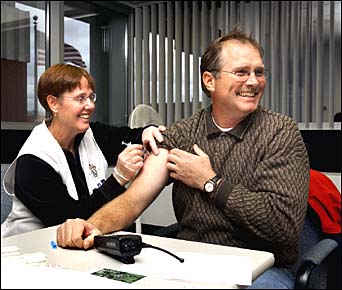 Annual shot in the arm, literally
Vickie Hahn, a nurse in Ames Laboratory, administers a flu shot to Central Stores scheduling coordinator Curt Purdum early last week. In the first 15 days of the flu shot clinic, 2,271 ISU employees were immunized. The clinic, at no cost to ISU employees, continues through 4 p.m. Friday, Nov. 21, in 205 TASF. Photo by Bob Elbert.


---

Ames, Iowa 50011, (515) 294-4111
Published by: University Relations, online@iastate.edu
Copyright © 1995-2003, Iowa State University. All rights reserved.