November 21, 2003
Knack for cleanliness reaps satisfied clients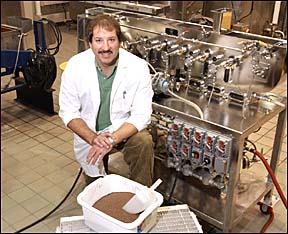 Mark Rueber runs a tight ship -- and a clean one -- in the Crop Products Pilot Plant. Photo by Bob Elbert.

by Brian Meyer, Agriculture Communications
Mark Reuber has high standards for cleanliness. He's got to, as manager of the Crop Products Pilot Plant in the Center for Crops Utilization Research.

The pilot plant, occupying a huge space in the Food Sciences Building, positively gleams. It's filled with shiny stainless steel mills, pumps, tanks, centrifuges, extruders, injection mold machines, presses and other equipment.

"Cleanliness is critical," said Reuber, who for 11 years has managed the pilot plant (and supervised the students who keep it spic-and-span). "Cleanup is an important part of organizing a project. It's central to making a pilot plant what it is -- that step between a lab and a commercial-scale facility."

The Crop Products Pilot Plant is at the heart of the Center for Crops Utilization Research, which explores new food, feed and nonfood industrial uses for Iowa crops, with a mission to add value to raw commodities.

The pilot plant contains equipment to take apart, mash, grind, squeeze and transform crops. The facility handles just about any kind of corn or soybean processing one might imagine, as well as processing for other kinds of food materials.

As manager, Reuber coaches pilot plant users on making the best use of the facilities. "I help them understand the equipments' capabilities, limitations and how to configure them to achieve the desired research results."


Clients on and off campus
Faculty across campus depend on the capabilities of the pilot plant, whether it's chemical engineers testing new techniques to make processing more efficient, food scientists evaluating the stability of new soybean oils, or animal scientists studying livestock diets. The pilot plant has been a key to ISU's development of crop-based products like degradable plastics and wood-product adhesives, as well as evaluation of soy foods like soy milk and tofu for export markets.

Many private companies also have taken advantage of the pilot plant. The Center for Crops Utilization Research has a small-business incubator program for innovative companies to test processes and formulations they hope to develop into products and services.

"Our industrial clients really love the pilot plant," Reuber said. "We've worked hard to deliver good service to them. It's a great opportunity for young companies to use ISU's facilities and expertise to get a good start."

Companies like Proliant, MicroSoy, ExSeed Genetics, Kemin Americas and Ajinomoto have taken advantage of the pilot plant. Proliant, housed at the ISU Research Park, has used the pilot plant to develop protein products for food, nutrition and human health industries. The company has built a new plant in Boone to make products using technology developed at the ISU center.

With three main groups of users -- students, faculty and industrial clients -- Reuber preaches the virtues of schedules. A graduate student stops by his office with a scheduling question. He reminds her, "Prior planning prevents poor performance."

He said, "We walk a tightrope with accommodating the needs of our users. All are under different needs and pressures, and we do our best to keep them happy."

Reuber became interested in new crop uses as a graduate student in agronomy in the 1980s. "I took a crops utilization class and became excited when I saw the potential for adding value to Iowa's crops," he said.

He went to work as a technician for Larry Johnson, the director of the Center for Crops Utilization Research. By the time he finished his master's degree, the new pilot plant was nearing completion. He initially hired on as the "oilseed extraction guy." His penchant for careful detail work fit well with research that required the use of hazardous solvents, where safety was paramount.

He then was named manager of the entire plant, and helped bring the rest of the labs and facilities online.

"I was the first person to use the pilot plant," Reuber recalls. "I remember standing in this mostly empty, cavernous room with a Japanese 1940s-era screw press, collecting oil from soybeans. We've come a long way since then, and I believe our facility is the best in the country."


Student mentor
For Reuber, working with students is a satisfying perk of the job. Each year he assists food science and human nutrition faculty in a dozen labs held in the pilot plant.

"We're not teaching them how to push buttons on equipment. They get the science and theory behind food processing."

In a product development course, Reuber advises students on developing their formulations. Cleanliness again comes to the fore in a food microbiology class. In a role-playing exercise, Reuber is an irate plant manager complaining to a group of consultants (the students) about shoddy plant practices.

"I take them on a tour of the plant, purposefully leaving one piece of equipment uncleaned to see if they can find the problem. Some have a flair for it."

Reuber also helps student clubs make foods like ice cream and frozen yogurt for Veishea and other events. He has hosted design and English students who find the pilot plant's elaborate industrial milieu a source of inspiration.

Reuber sees the pilot plant as ideally positioned for evaluating future research on genetically modified crops. "We have the capabilities to process these crops in ways to preserve their special properties."

Reuber says his philosophy is to work hard and be honest. "While I'm pushing myself hard, I try not to take myself too seriously. That's the challenge."

No doubt, Reuber runs a tight ship. Does it carry over to his life outside work?

He smiles.

"You should see the dirty dishes stacked up in my sink."




---

Ames, Iowa 50011, (515) 294-4111
Published by: University Relations, online@iastate.edu
Copyright © 1995-2003, Iowa State University. All rights reserved.