November 21, 2003
Madrigal Dinners Jan. 16-17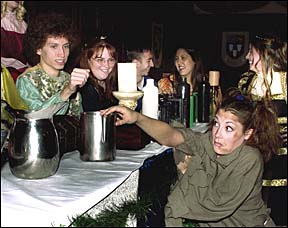 A beggar tries to snatch a morsel of food during a past Madrigal Dinner. The dinners will be held Jan. 16-17 at the Union Photo by Bob Elbert.

The 17th century will come alive on campus during the annual Madrigal Dinners, presented Jan. 16 and 17 by the music department.

The Memorial Union's Great Hall will be turned into a candlelit banquet hall filled with the ambiance of a festive Renaissance English court.

Both nights will begin with a social hour at 5:30 p.m. The fanfare for dinner is scheduled for 6:30 p.m.

Tickets are $30 for regular admission and $28 for Iowa State students, senior citizens and groups of 10 or more.

Send checks payable to ISU Madgrigal Dinner to Madrigal Dinner Tickets, 115 Music. Credit cards are not accepted.

Beginning Dec. 1, tickets may be purchased at the Memorial Union ticket office from 10 a.m. to 7 p.m., Monday through Saturday. Tickets also may be purchased by phone at 4-8349, noon-4 p.m. weekdays.




---

Ames, Iowa 50011, (515) 294-4111
Published by: University Relations, online@iastate.edu
Copyright © 1995-2003, Iowa State University. All rights reserved.