November 21, 2003
Gifts that win hearts and support your ISU colleagues
by Diana Pounds
Gifts for the creative, the hungry, the musical, the Clone-enamored -- they're all right here on the Iowa State campus. In Inside's second guide, here are a few ideas for holiday gifts that you can run down over the lunch hour . . . and still have time for lunch.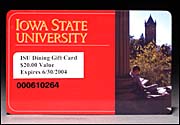 Fine dining all over campus priceless
Stuff the stocking of the campus denizen with an ISU Dining gift card. Gift cards (available in $10 and $20 versions) provide dining enjoyment at campus food courts, dining halls, cafes and convenience stores. Buy cards at: MU Food Court, MU Caf, Clyde's (in the UDCC), Hawthorn Market and Caf (Frederiksen Court Comm. Center), Design Center Caf, Gentle Doctor Caf, or Hazel's Kitchen (Reiman Gardens).

Zodiac and ghostly T-shirts
Whether they're from the Coke date or the Burgie's smoothies generation, they'll likely enjoy a Memorial Union T-shirt ($9) marking the Union's 75th year. The muted red shirt features "don't step on the zodiac" and the blue, the alleged ghost of Gold Star Hall. Drop by the Memorial Union main desk to purchase, or call 4-2549.

A creative nudge
Nudge the family gamer from the PlayStation to the clay station, with a gift certificate to The Workspace. In the well-equipped Memorial Union studios, artists can create ceramics, screen prints, wood items and more. Gift certificates buy space in the studios or art classes. Contact 4-0971 or visit The Workspace.



Set it on the counter, by the radio
WOI Radio fans: Support your favorite station and pick up a unique cookie jar for the family cookie chef. The hand-thrown, hand-painted stoneware jar bears the WOI logo and is a "thank-you" gift for a pledge of $1 a day to WOI. A $75 pledge yields a hand-thrown WOI coffee or soup mug. Contact Marisue Hartung, 4-8603.

Shop the open house
The Dec. 3 winter open house at University Book Store will yield a number of gift possibilities, such as Cyclone gear, poinsettias (from the ISU Hort Club) and books signed by Iowa State authors. The open house is from 7:45 a.m. to 7:30 p.m. A schedule of open house activities is at http://www.ubs.iastate.edu/winter/openhouse.html.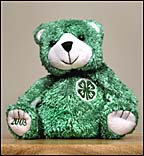 Chloe, the bean bear
Chloe, a shaggy green bean bear with a 4-H emblem on its chest, was designed exclusively for Iowa. Each limited-edition bear is handmade and numbered. Cost is $10 picked up or $12 shipped. Drop by the Extension 4-H Youth Building or call 4-1537.

No bread machine required
The first-place bread recipe that earned an Iowa 4-H'er a trip to Washington, D.C., in 1912 is but one of the blue ribbon recipes in the 4-H cookbook Iowa: A Taste of Home. Cost is $10 picked up or $12 shipped. Drop by the Extension 4-H Youth Building or call 4-1537.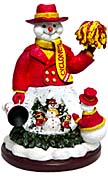 Frosty never looked so good
It's a collectible fit for a Cyclone mantel -- a "snow globe" snowman decked out in Cyclone gear. Put him next to Fight Song Santa. Available at the University Book Store, $39.95 each.

For those who like to grow
Lush photos and garden tips make Extension's 2004 Garden Calendar a traditional holiday favorite among gardeners. Two other colorful publications (Tree Fruits and Small Fruits) will help backyard growers keep the fruits of their labors bug- and disease-free. The calendar is $8 (also available in Spanish) and each fruit publication is $5, plus shipping and handling. To order, call 4-5247, drop by the Extension Distribution Center (Printing and Publications Building) or order online at http://pubs.extension.iastate.edu.

That's entertainment
Doesn't matter if she's a little bit country, a little bit rock 'n roll, a little bit Broadway musical or a little bit something else. A gift certificate from the Iowa State Center covers the entertainment bases and provides a refreshing break from those Law and Order reruns. In increments of $5, certificates are available at the ticket office in Stephens Auditorium, Monday-Friday, 10 a.m. to 6 p.m.



Megaplanets
Unique, hand-blown glass Megaplanets by artist Josh Simpson spark the imagination. They are available at the Brunnier Art Museum store in prices ranging from $40 to $400.

A hunk of meat, a hammered dulcimer and thou
Give an evening of 17th century song, food and fun with a ticket ($30) to the music department's Madrigal Dinner Jan. 16 and 17. Tickets are available after Dec. 1 at the Memorial Union main desk or by calling the Union ticket office, 4-8349.

Lunch at the Tearoom
Those who lunch on campus surely would welcome a gift certificate to the student-run Joan Bice Underwood Tearoom, where the menu items are interesting and the presentation elegant. Gift certificates can be purchased in 1055 MacKay Hall.



For the bare-handed
The official Iowa State ring is a classy gift for ISU alumni and upperclassmen. Engraved with images of campus, the solid gold ring comes in several styles. Prices start at $300. Visit the Alumni Association or University Book Store to place an order. See http://www.isualum.org/services/ring.



Splendor of the Iowa skies
Planetary nebula, starburst galaxies and the hometown galaxy (The Milky Way) are some of the glorious sights captured by ISU's telescope and featured in the physics and astronomy department's 2004 calendar. The calendar ($10) will be available in the University Book Store soon.

Handmade at Iowa State
Hand-blown glass pieces, lithographs, intaglios, pottery, jewelry and other crafts made by Iowa State students, faculty and staff will be on sale at the Art Mart from 8 a.m. to 5 p.m. Wednesday, Dec. 3, in the Memorial Union northwest study lounge. The sale features original works from the ISU Glass-blowing Club (Gaffers' Guild), University Print Society and The Workspace.

Never too young for the cardinal and gold
Buy a youngster (eighth grade or younger) a $30 membership in the Lil' Clone Club. Membership provides free admission to more than 80 Cyclone sporting events, along with such amenities as an official T-shirt, exclusive parties and birthday e-mails from Cy. More info: http://cyclones.ocsn.com/trads/lil-clone-club.html.

College -- for seniors
Fifty-somethings who like to learn will enjoy a gift certificate to College for Seniors. Four- to eight-week classes ($35 to $50 each) on politics, history, art, computing and much more are offered fall and spring semester to those 50 and older. Many classes are taught by current or retired ISU faculty. Drop by 88 Scheman or contact ealicht@iastate.edu, 4-3830.



Music, indoors and out
The four ISU faculty in the Ames Piano Quartet make some of the finest chamber music in the world. Quartet CDs ($15 each) are available from amazon.com, borders.com or the group's pianist William David, 4-2027, wdavid@iastate.edu. Another campus CD option is music professor and organ virtuoso Lynn Ziegler on the Brombaugh organ; several CDs ($15) are available in the music department, 4-3831. Also available on CD are the spirited sounds of the Cyclone Marching Band ($18.95 at local campus bookstores).

Candles, Iowa-style, and butterflies
'Tis the season for candles, and the Reiman Gardens Gift Shop has the good Iowa variety -- clean-burning soy candles ($1.50-$21) and bees wax candles ($3.95-$8.50), both made in-state. Also available: framed displays of butterflies that once flitted around the gardens' butterfly wing ($25 and up) and a limited edition Scarlet Mormon butterfly print ($70) by a Nebraska artist and ISU alumna.




---

Ames, Iowa 50011, (515) 294-4111
Published by: University Relations, online@iastate.edu
Copyright © 1995-2003, Iowa State University. All rights reserved.