November 21, 2003
Students learn from one of the best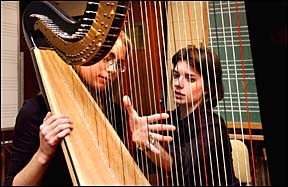 Harpist Catrin Finch (right) gives advice to Elizabeth Walk, Drake University, during a recent Master class on campus. Photo by Bob Elbert.

Prince Charles had to do without his harpist while she spent four days teaching Iowa State students the intricacies of the strings.

Catrin Finch, only 23 but already one of the finest classical harpists in the world, spent Nov. 11-14 on campus as an artist-in-residence. While on campus, she presented Master classes for ISU students and harpists from across central Iowa. She also gave performances for local retirement communities and elementary schools in Ames and Boone, and culminated her visit with a public recital on campus.

Finch is Royal Harpist to His Royal Highness The Prince of Wales. Prince Charles revived this post after hearing Finch perform for his 50th birthday party at Buckingham Palace. The last appointment of a royal harpist was made by Queen Victoria in 1871.

Born in Wales, Finch began to study the harp at age 6. At 10, she played at the World Harp Congress in Paris, and at 11 she became the youngest member of the National Youth Orchestra of Great Britain to perform in a BBC promenade concert at Royal Albert Hall.

In addition to many U.S. tours, she has performed recent recitals in Thailand, Latvia, Germany, France, Russia and Spain.




---

Ames, Iowa 50011, (515) 294-4111
Published by: University Relations, online@iastate.edu
Copyright © 1995-2003, Iowa State University. All rights reserved.