November 21, 2003
University help to businesses affects entire state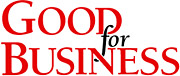 by Kevin Brown
The benefits that Iowa's Small Business Development Centers give to their client companies ripple across the state, increasing tax revenue, creating jobs and increasing sales.

The 14 centers, based out of Iowa State, are located at public and private universities, community colleges and chambers of commerce. The Small Business Development Centers provide no-charge counseling and information to owners and would-be owners of small and mid-size businesses.

A recent study by a Mississippi State professor showed that long-term center clients in Iowa generated more than $28 million in new sales and added 648 jobs to the market in 2001. In addition, nearly $63 million in sales and 209 jobs were saved due to the centers' counseling.

Established-business clients paid more than $1 million in taxes from increased sales, and new businesses that received counseling from the centers generated nearly $3 million in taxes. Of that $4 million in taxes, Iowa received nearly $1.5 million, with the rest going to the federal government.

Counseling also helped these businesses receive an estimated $25 million in financing. That means for every dollar spent on the Iowa Small Business Development Centers, $13.06 in new capital was raised from external sources.

Overall, the centers' clients generated a return of $2.09 for every dollar they spent in just the first year of counseling.

And that not only is good for business, it's good for the state.




---

Ames, Iowa 50011, (515) 294-4111
Published by: University Relations, online@iastate.edu
Copyright © 1995-2003, Iowa State University. All rights reserved.