November 21, 2003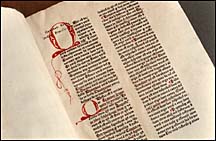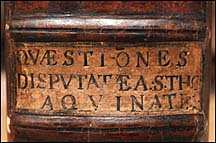 500-plus years old
The oldest book in the Iowa State library, written by St. Thomas Aquinas, was published in 1475. Quaestiones de veritate is an incunabulum, a book printed using moveable type during the infancy of printing -- approximately 1455 through 1501. The typography is Gothic and the decorative capitals of each section are painted, a common effort to make printed books look like manuscripts. The book also has "marginalia" (notes in the margins). The library has 13 incunabula housed in the special collections department. Those who would like to see them may visit the department's reading room; advance notice is requested due to special handling issues. Photos by Bob Elbert.


---

Ames, Iowa 50011, (515) 294-4111
Published by: University Relations, online@iastate.edu
Copyright © 1995-2003, Iowa State University. All rights reserved.