November 21, 2003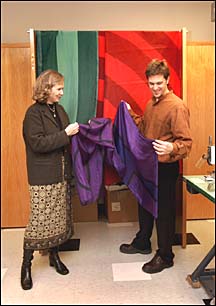 Cross-campus collaboration
Deb Satterfield, art and design, and J.R. Campbell, textiles and clothing, teamed up to create decorative banners for the WOW (Why Opportunity Works) Center in the new Extension 4-H Youth Building. Campbell printed the silk and cotton banners, and Satterfield designed them, incorporating lines and patterns from the center's terrazzo floor. The campus community is invited to an open house at the building from 2 to 4 p.m. Friday, Nov. 21. Parking is in lots 120 and 20, south and west of the building. Photo by Bob Elbert.


---

Ames, Iowa 50011, (515) 294-4111
Published by: University Relations, online@iastate.edu
Copyright © 1995-2003, Iowa State University. All rights reserved.