November 7, 2003
Scientific duo a hit in Iowa classrooms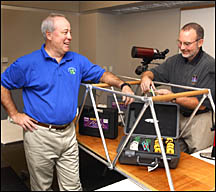 Steve Truby (left) and Jay Staker collect some of the props that help keep them in demand in Iowa classrooms -- an engineering bridge kit, global positioning system, telescope and a bicycle pump used with a paper rocket launcher. Photo by Bob Elbert.

by Tracy Petersen
Some might find it ironic that Iowa, an undisputed leader in all things agricultural, is a hotbed of science education. The irony is not lost on two of the people leading that charge, but they don't have time to give it much thought. They just want to lose the label "one of the best-kept secrets in Iowa."

Jay Staker and Steve Truby head up E-SET, short for Extension--Science, Engineering and Technology, a cooperative program between ISU Extension 4-H Youth Development and the Iowa Space Grant Consortium. Although many Iowans haven't heard of E-SET, it has earned a reputation among educators and reaches 20 states, Japan and Korea. It also keeps Staker and Truby on the road, explaining, demonstrating and promoting the program.

Born in the early 1990s, E-SET was the brainchild of then-ISU vice provost for Extension Robert Anderson, who wanted to foster an interest in science among children. Staker, E-SET's director, and Truby, youth initiative specialist, do that by working with teachers and others to improve science, engineering and technology education. The two, with help from administrative assistant Vicki Speake, develop research-based curricula and teaching kits, obtain funds to pay for the materials and inform educators that Iowa schools, 4-H clubs and other interested groups may borrow the kits. E-SET also sells kits to customers here and in other states.


Kits are hits
Among the most popular kits are those that feature bridge building, telescopes, global positioning systems (GPS) and biotechnology.

"We have 15 biotech kits circulating around the state," Truby said. "Each kit contains prepared slides and 30 microscopes, so each student has a microscope to use."

Kids of all ages can use the elementary bridge-building kit, one of Staker's personal favorites. Younger kids assemble the bridge and then climb on it -- it holds up to 250 pounds -- while older kids supplement the bridge-building exercise with a hands-on lesson about the realities of engineering, from design to economics.

"The students design bridges according to a set of specs," Staker explained. "They have to consider budgets, aesthetics and how they function."

Afterward, they build small, model bridges that are judged on all of those aspects.

On average, groups keep the kits for about two weeks. Some teachers opt to purchase their own kits to have constant access to them.


Going global
Of all the materials available for borrowing, the GPS kits have put E-SET on the map. To date, GPS kits have been sold in 20 states and to army education programs in Japan and Korea.

GPS is everywhere, Truby and Staker said, explaining the topic's popularity. It's used in car navigation systems, satellite-guided missiles, agriculture and rescue missions, to name just a few applications.

Borrowers and buyers learn about GPS and other E-SET kits from Truby and Staker when they demonstrate their products at venues such as science teacher conferences and NASA workshops. The two travel the nation, from Florida to Utah, in the course of their work.

"E-SET is an Iowa program," Truby noted. "No other 4-H programs have anything like this, so there's a lot of interest."

As a result, Staker said, "We get around. We're not here very much."

With cuts in state funding to public schools, the two also take their kits to Iowa schools.

"There's a lot of demand for us to visit schools since so many have cut their field trips," Truby said.


Exploring uncharted watersK
Despite the fact that both Staker and Truby have always loved science, neither envisioned a career in which they'd help educators teach it. Both began their careers as teachers and said they were thrilled to find positions in which they could marry their love of research and science to teaching.

Two years ago, Truby helped develop the 4-H aviation camp, during which kids between the ages of 9 and 12 experiment with rocket building, learn the principles of flight, use flight simulators and take one-on-one flights with pilots.

"I built a camp that I would have liked when I was 10 years old," he said.


Friends in high places
Staker and Truby are quick to point out that without a wide variety of sponsors, most E-SET programs would never get off the ground. The two credit everyone from the ISU administration and Office of Biotechnology to the Iowa Department of Transportation Office of Aviation and the Iowa Space Grant Consortium with contributing to their success.

By most accounts, the success is widespread. Each year in Iowa alone, 20,000 to 26,000 youth have six or more hours of contact with E-SET programs either through 4-H or their classrooms. Thousands more youth and adults are touched by E-SET through other groups or in other states.

With so much interest among educators, both on campus and around the nation, E-SET's future looks bright. That means that E-SET can plot its own future course. Up next: geographic information systems (GIS) that is, ironically, mapping.




---

Ames, Iowa 50011, (515) 294-4111
Published by: University Relations, online@iastate.edu
Copyright © 1995-2003, Iowa State University. All rights reserved.