November 7, 2003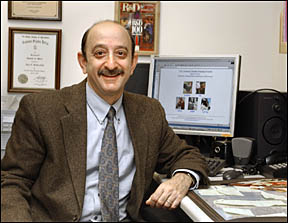 The first
Max Rothschild, co-director of the Center for Integrated Animal Genomics and C.F. Curtiss Distinguished Professor of Agriculture in animal science, will present "From A Sow's Ear to a Silk Purse: The Promise of Genomics" at 8 p.m. Thursday, Nov. 13, in the Memorial Union Great Hall. His talk is the inaugural Presidential University Lecture, created to highlight faculty excellence. Once a semester, an ISU faculty member will present a public lecture. Photo by Bob Elbert.


---

Ames, Iowa 50011, (515) 294-4111
Published by: University Relations, online@iastate.edu
Copyright © 1995-2003, Iowa State University. All rights reserved.