November 7, 2003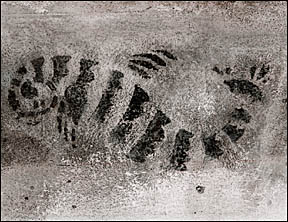 Not old enough to be a fossil
This remnant of a fish stencil is one of several uncovered in Morrill Hall during historic documentation of the building, a precursor to its renovation. When the building was completed, artists stenciled on the walls of the former first-floor library and third floor zoological museum. Over the years, the bronze or gold leaf embellishing some of the stencils oxidized with the plaster walls; that oxidization is what remains. Noble Preservation, Zionsville, Penn., is doing the work, both for historic data and to collect ideas for the renovation of Morrill. Through analysis of plaster samples, Noble staff believe they will identify at least 75 percent of the original paint colors in the building. Photo by Bob Elbert.


---

Ames, Iowa 50011, (515) 294-4111
Published by: University Relations, online@iastate.edu
Copyright © 1995-2003, Iowa State University. All rights reserved.